Ely has something for everyone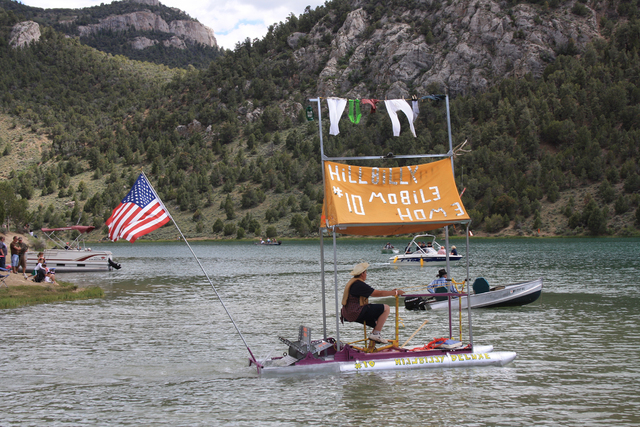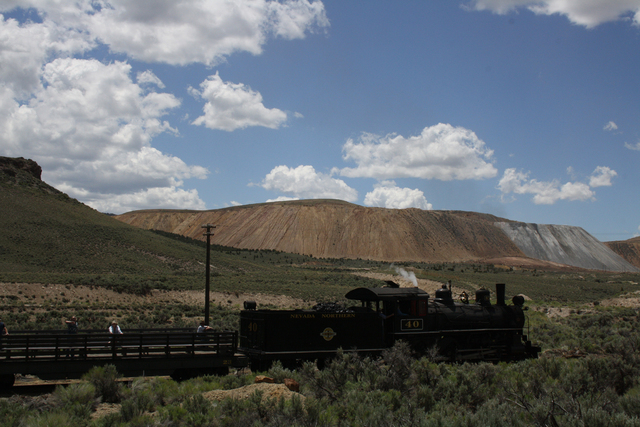 One of the best things about living in Nevada is that no matter what the season, you can find a place with ideal temperatures not too far away. A place that has them right now is Ely, in White Pine County at an elevation of more than 6,400 feet.
While Southern Nevada temperatures surge into triple digits, Ely's average daily highs in June are only around 80 degrees, ideal for sightseeing and exploring. In July and August the daily high temperatures are in the upper 80s, still cool by our standards.
Furthermore, Ely has something for just about all ages and interests.
One of the highlights of a visit to Ely is the Nevada Northern Railway. The railroad depot in east Ely has been designated a National Historic Landmark but still functions as a train station from which steam and diesel engines depart on two different routes throughout the year. On regularly scheduled trips both outdoor and indoor seating are available. Besides the standard rides throughout the summer, the Nevada Northern dispatches "specials" such as the Wild West Limited Train. This train is pulled by an authentic steam engine much like those of the iron-horse era, and its passengers will also encounter cowboys and perhaps an outlaw or two. Other special train events this summer include the Rockin' and Rollin' Geology Train, the Steptoe Valley Flyer and the Star Train. Call or check out the website for complete schedule at www.nnry.com or call 866-407-8326.
With all the amenities of a good-sized town, Ely makes an especially good base camp for exploring the interesting outdoor region that surrounds it. There are the well-preserved Ward Charcoal Ovens. There are the cooling waters and fishing of Cave Lake State Park. And there's the Great Basin National Park with its hiking trails, scenic drive and the opportunity to tour a limestone cavern.
One of my favorite annual events in all of rural Nevada happens June 24-25 at the 32-acre reservoir in Cave Lake State Park, just 14 miles south of Ely. Cocktails and Cannons, the Great Bathtub Races, take place with the main event on Saturday, June 25. Things start getting going about 11 a.m. when concession booths open offering food and drink. The races themselves start at 3 p.m. Bathtub races start the competitions, followed by the Rubber Ducky, kayak and canoe races.
Every craft in the bathtub race was once, literally, a tub. There are motorized and nonmotorized categories, but some of the former bathroom fixtures are far less seaworthy than others, which ensures hilarity. Bring a chair, place it firmly upon the dry shore, and feel free to offer advice to sailors as the fleet flounders past. Stick around after the races and you can enjoy the event's famous beach party, featuring a barbecue and fireworks display over the water.
Ward Charcoal Ovens State Historical Park is best known for its six 30-foot-high, beehive-shaped ovens. These masonry structures produced charcoal for smelting ore and operated during the silver boom here in 1876-1879. You'll find them very well-preserved, just 18 miles south of Ely.
When in Ely, even a half-day trip to Great Basin National Park is feasible. It lies little more than an hour from town. The 12-mile scenic drive, which climbs up more than 4,000 feet before culminating at 10,000, would be itself worth the drive. There are also the guided tours of Lehman Caves to see the stalactites, stalagmites, helictites and more than 300 rare shield formations. For details visit www.nps.gov/grba/.
Ely and the surrounding area boasts a variety of campgrounds, recreational vehicle parks, inns, bed-and-breakfasts, motels and hotels. There are also dining options ranging from national fast food chains to delicatessens to sit-down restaurants. The town also provides complete services such as gas stations, drug stores, markets and convenience stores.
For more information, contact the White Pine County Tourism and Recreation Board at 800-496-9350 or 775-289-3720, or visit www.elynevada.net/.
Many of Deborah Wall's columns have been compiled in the book "Base Camp Las Vegas, Hiking the Southwestern States." She is also the author of "Great Hikes, a Cerca Country Guide" and a co-author of the book "Access For All, Seeing the Southwest With Limited Mobility." Wall can be reached at Deborabus@aol.com.