Eagles win one, tie other in doubleheader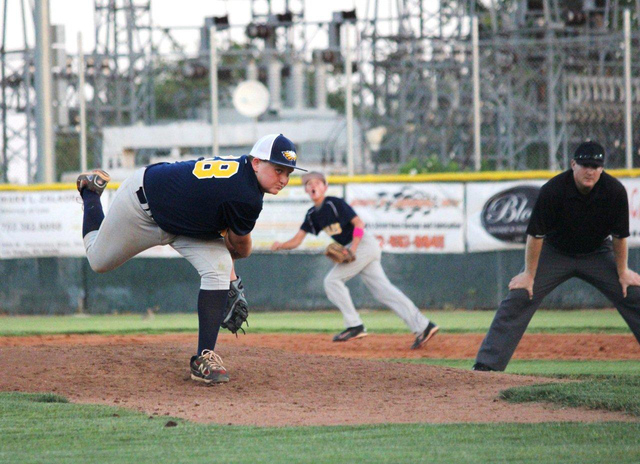 The Boulder City Eagles 16-under baseball team remained unbeaten through four weeks of the summer Connie Mack Summer League.
It took all day Saturday to defeat Green Valley 5-4 in extra innings in the first game of a doubleheader and for the teams to battle to a 4-4 tie in the afternoon game that was eventually postponed because of darkness.
The Eagles were 3-0-1 this past week and improved to 11-0-1 for the season under head coach Ron Hubel.
In the first game at home, Boulder City escaped with a wild win in nine innings with timely hits by Nolan DeSantis, Will Knudsen and Seth Kermode, who each had two hits. Austin Shepard, Nick Giunta and Patrick Garvin added one hit each.
Shepard started on the mound and pitched well before a jam in the third inning. Steve Wagner entered in relief and was able to calm the Gators' bats.
"Steve did his job in a tough spot and kept us in the game." Hubel said. "We held our ground and scored the winning run on a passed ball in the bottom of the ninth inning. This extended our streak to 11-0 and the kids were very happy about that."
In the second game against Green Valley, the Gators jumped out to an early 2-0 lead in the first inning.
But as coach Hubel has come to expect from his squad, it rallied back.
"We have come to rely on our offense and it came through again, regaining the lead for us quickly," Hubel said.
The Eagles took a 3-2 lead in the bottom of the second inning behind starting pitcher Kermode. Kermode went 3 1/3 innings before giving way to reliever Giunta, who would finished the game.
Leading the Eagles offensively was DeSantis and Shepard with two hits each. Shepard had two RBIs. Garvin, Knudsen, Wagner, Mike Morelli and Kodey Rahr contributed with singles.
"Although it was not a win, a tie is better than a loss, and we gained experience," Hubel said. "We are doing well now and I look forward to another great effort this week when we play four games, including two this weekend in St. George, Utah."
Earlier in the week, Boulder City defeated Eldorado 15-12. Peyton Koopman pitched two innings and was relieved by Preston Van Diest. The Eagles had 15 hits, led by DeSantis, who went 3 for 5 with four RBIs. Koopman, Knudsen, Kermode and Van Diest each had two hits. Austin Wishard and Garvin each had two RBIs.
"This was a tough game in the windy conditions," Hubel said. "I was pleased that our players never gave up and played hard all game."
On June 18, the Eagles pounded Shadow Ridge 15-8 behind DeSantis, who went 3 for 4. DeSantis' effort was highlighted by his first home run of the season and three RBIs. Morelli and Koopman also contributed three hits each, with Morelli getting two doubles. Rahr had two hits and Giunta pitched a solid 3 2/3 innings, with Wagner closing it out.
"Our defense continues improving, but we did have one tough inning where we lost our focus," Hubel said.
"Fortunately, our offense has been very consistent and it afforded us the benefit of a solid lineup no matter which nine players are playing. Again, it was our offense and our ability to get key hits with runners on base that won this game for us."
The Eagles defeated Palo Verde 10-7 on Friday with a quality pitching performance by Jake Hubel, who pitched his second complete game. Hubel threw a total of 83 pitches and allowed only one walk.
Leading the offensive was Garvin, who went 3 for 3, with one triple and one RBI. Shepard and Van Diest had two hits each, while DeSantis, Kermode, Hubel, Knudsen and Wagner each had one hit.
"This was also a great defensive game for us, as our infield made every play when it had to make," coach Hubel said. "It was great to see the kids playing with confidence each game."
The Eagles 14-under has a 5-4-1 record and is having a good summer, coach Bobby Reese said.
Three players — Nolan Herr, DJ Reese and Teddy Lobkowicz — who will be incoming freshmen at the high school in the fall are having good summer seasons on the mound.
Patrick Hood and Anthony Pacifico are leading the Eagles 14u with a .417 batting average.