Eagles use summer to test skills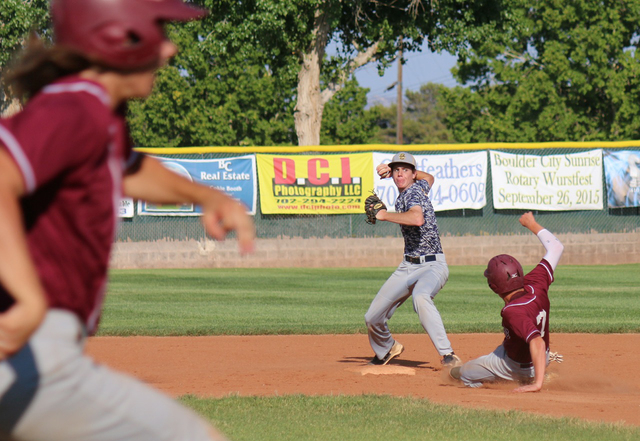 As the Boulder City Connie Mack summer league 18 and under team continues to work on its game, players are able to see parts of the field that they wouldn't normally see during the regular season.
Recent graduate Austin Shepard has seen some time on the mound and, for the first time in his career, has played on the field with younger brother Colin.
Nolan Desantis and Austin Wishard also have tried their hand at pitching. Boulder City's varsity and junior varsity players are moving around to improve their skills in every aspect of baseball.
On June 25, Boulder City traveled to Arroyo Grande to play the Foothill Falcons, where they lost 5-2. Shepard was 1-for-3 at the plate with one RBI, while Steven Mull had one RBI and was 2-for-3.
Preston Van Diest pitched two innings, allowing four hits and four walks, with one strikeout. Shepard also pitched three innings, with six walks and five strikeouts.
Saturday, Boulder City hosted two games against the Cimarron-Memorial Spartans, losing both.
Boulder City lost the first game 7-1. Desantis was 1-for-3 with a RBI.
Jake Hubel pitched four innings, allowing six hits and three walks with one strikeout. Nick Giunta closed, pitching two innings, allowing one hit and a walk, with one strikeout.
In game two, Boulder City lost 5-0.
Mull pitched five innings, allowing eight hits with two strikeouts. Shepard closed out the game, pitching two innings, allowing two hits and a walk.
Monday night, the Eagles hosted Legacy, and won 6-5, ending their three-game losing streak.
Wishard and DJ Reese each had one RBI. Van Diest went 2-for-3 and Zach Murphy went 1-for-3, each with one RBI.
Murphy pitched for four innings, allowing four hits and two walks, with four strikeouts. Shepard pitched one inning and allowed two hits and two walks, with three strikeouts. Desantis closed out the game for two innings, allowing one hit with two strikeouts.
On Tuesday, Boulder City lost to Green Valley Elite 8-4.
Wishard was 2-for-4 at the plate with three RBIs; Desantis had one RBI.
Hubel pitched six innings, allowing nine hits and two walks with two strikeouts. Wishard closed the game, allowing two hits and a walk.
Results from Wednesday's games against the Summerlin Panthers were received too late to be included in this edition.
The Las Vegas Bengals travel to Boulder City on Friday for a 7 p.m. game against the Eagles.
Contact Rochelle Richards at BCRsports@gmail.com.