Eagles reach tourney quarterfinals before 17-1 loss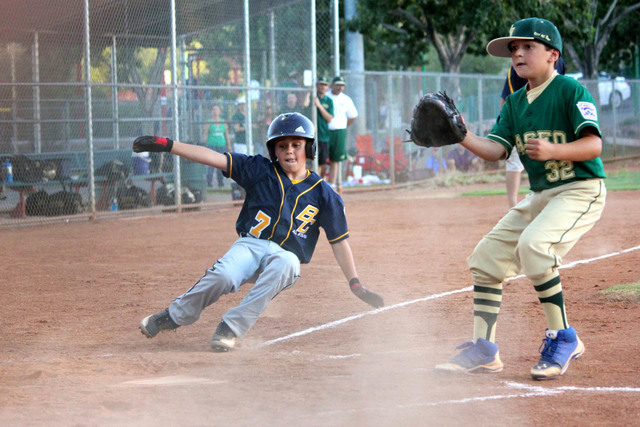 The Boulder City 14-under baseball team won a playoff game and reached the quarterfinals of the Connie Mack Summer League 14-under State Tournament this past week before being eliminated.
The Eagles, who finished the regular season 11-9-2, were the No. 5 seed in the state tournament.
They defeated the No. 4 seed Las Vegas Cats 12-2 in the opening round July 22 at Las Vegas High.
The Eagles lost 7-2 to the Green Valley Elite the next day before being eliminated in a 17-1 loss to the Snow Canyon (Utah) Warriors on July 24.
"The kids worked hard all summer and gained experience that will one day help them when they play at Boulder City High," coach Bobby Reese said.
The Eagles improved as the season went on and won six of seven games to climb to fifth place at one point.
They were led by Teddy Lobkowicz, Patrick Hood, DJ Reese, Shaun Jones and Nolan Herr.
Little League All-Stars
In the 9-10 age-group Little League All-Star tournament, Boulder City defeated Paseo Verde Green 10-0 in its opening game behind Richard "RJ" Kilar, who pitched 4 1/3 innings and allowed only three hits and no runs. Joe Giunta pitched the final two-thirds of an inning and had two strikeouts to end the game. Jamison Kaboli had three unassisted put-outs at first base and assisted on another three outs.
Giunta hit 3 for 4 with a single, double and triple and scored three runs. Izec Easter, Kilar and Preston Reynolds each had extra-base hits.
In the second game, Boulder City lost 24-0 to Henderson Navy with Conner Solberg managing its only hit.
Boulder City bounced back in its third game with a 13-9 victory against the Central All-Stars, again behind Kilar's pitching. He threw 4 1/3 innings to get the victory.
The game was scoreless through three innings until Boulder City scored behind hits by Kilar, Giunta, Kaboli and Brayden Cook.
Paeton Carver scored in the bottom of the fourth on a sacrifice fly by Dylan Spencer before Boulder City broke it open in the fifth inning with a two-run homer by Martin Thompson, his first ever out-of-the-park home run.
Boulder City scored another seven runs, and Cook and Kilar made defensive plays to preserve the win.
Because of the rules (and its earlier 24-0 loss), Boulder City would have had to outscore Paseo Verde Gold by 30 runs in its final game to advance. Boulder City lost 14-6.
Giunta pitched 3 1/3 innings in a game that went back and forth until Paseo scored seven runs in the top of the third inning. Boulder City took a four-run lead in the first inning.
Giunta had a two-RBI double and Easter went 3 for 3.
Matt Kilar was the Boulder City head coach and Jared Davis and Clint Spencer were assistant coaches.