Eagles head into weekend on win streak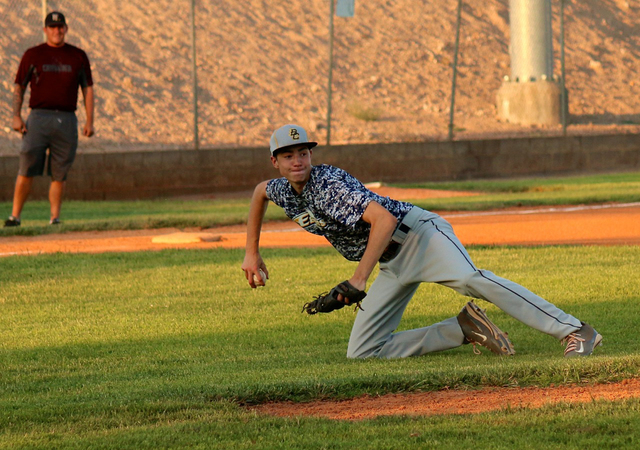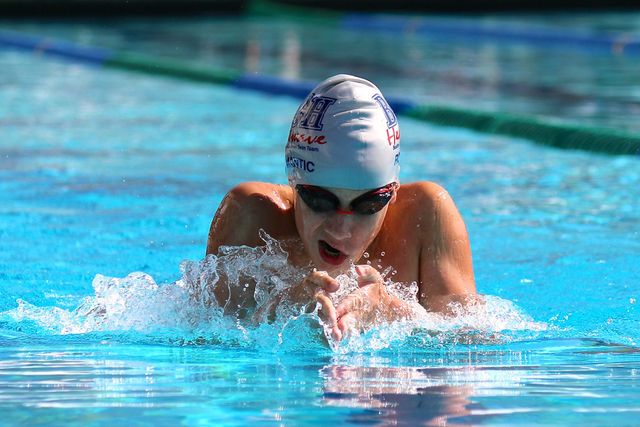 The Boulder City Connie Mack summer league 18 and younger baseball team is on a two-game winning streak as it heads into the weekend.
The streak started Wednesday when Boulder City played two games against the Las Vegas Toros.
Boulder City lost the first game 2-1, but came back in the second game to defeat the Toros 10-4
In the first match, Mike Morelli was 1-for-3 at the plate, with one RBI and a walk.
Jake Hubel pitched six innings allowing four hits and two walks, with six strikeouts. Steve Wagner closed the game, allowing no hits, with one walk and a strikeout.
In the second game, Nolan Desantis had three RBIs and a walk, going 3-for-4 at the plate. Teammates Kodey Rahr and Steven Mull both were 1-for-5 with a RBI.
Hubel was 1-for-3 with a RBI, while Aaron Kehoe was 2-for-4 with one RBI. Nolan Herr was 1-for-1 with a RBI.
Austin Shepard pitched five innings, allowing seven hits and four walks with four strikeouts. Mull came in as relief pitcher only allowing one hit, a walk and throwing three strikeouts in one inning.
Sunday's Father's Day game was moved to 5 p.m. July 10 at Shadow Ridge.
On Tuesday, Boulder City hosted the Faith Lutheran Crusaders and won 4-1.
Preston Van Diest went 2-for-4 with one RBI, while Wagner was 1-for-2, with two RBIs.
Wagner also pitched five innings allowing eight hits; he had two walks and three strikeouts. Nick Giunta closed allowing only one hit and two walks in two innings.
Today, the Eagles have a 7 p.m. game at Arroyo Grande against the Falcons.
SWIMMING
Over the weekend members of the Boulder City-Henderson Heatwave traveled to Irvine, Calif., for the 2015 NOVA/Southern California Swim June Age Group Invitational.
Many swimmers from Boulder City and Henderson finished high in their categories, swimming faster than their seed times.
In the girls 15-18 800-meter freestyle relay, BCH Heatwave's A team finished first with a time of 8:33.034. That team consisted of Alex Hubel, Rori Conners, Victoria Navarro and Abby Richter.
Hubel also placed second in the girls 15-18 400-meter medley relay, with Elizabeth Clinch, Richter and Navarro. The A team finished with a time of 4:31.35.
Nick Lara participated in the boys 15 and over 200-meter individual medley, placing fifth with a time of 2:16.84. He also placed sixth in the boys 15-18 800-meter freestyle relay A team, 8:21.98, with Kaden Jesperson, Jake Chir and Alexander Johannessen.
In the girls 15 and over 1500-meter freestyle, Mandy Gebhart placed second with a time of 17:53.08.
The girls 15-18 200-meter freestyle relay B team consisting of Tayler Luna, Jessica Purdy, Tara Wise and Clinch, placed six, swimming 1:55.34.
Michael Luna, Joseph Purdy, Joseph Disorbo and Andrew Navarro placed fifth in the boys 11-12 400-meter freestyle relay, swimming 4:22.48 for the A team.
Joseph Purdy also placed sixth in the boys 11-12 400-meter medley relay with Elijah Wyett, Tucker Andrewjeski and Joseph Disorbo, swimming 5:11.32 for the B team.
Mason Romantic placed sixth in the boys 13-14 800-meter freestyle relay with Gabriel Weber, Paco Cuevas-Gutierres and Brooks Martin. The A team finished with a time of 9:06.06.
This weekend, the Heatwave will participate in the Mission Viejo Swim Meet of Champions in Mission Viejo, Calif. The event is for qualified national training group swimmers.
Contact Rochelle Richards at BCRsports@gmail.com.