Eagles find success on diamond this summer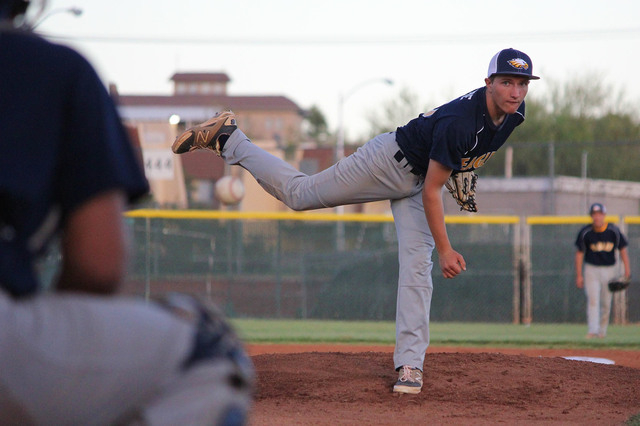 The Boulder City Eagles 16-under team is finding success on the diamond this summer in the Connie Mack League getting off to an 8-0 start.
The Eagles play Friday evening at Palo Verde before returning home to Whalen Field for a 9 a.m. Saturday morning double-header against Green Valley.
Preston Van Diest pitched five innings and Jake Hubel pitched one inning in relief as the 16u defeated Arbor View 12-0 last week.
"It was great to see the players off to another great start in the second week of the season," Eagles coach Ron Hubel said. "They played outstanding defense, and their bats followed suit as the final score showed. The players are starting to gel and play as a team. I really see our younger players starting to relax and thus allowing them to perform at a much higher level."
It took extra innings last Wednesday, but the Eagles stayed unbeaten with a 4-3 victory against the Centennial Bulldogs. The Eagles' offense was led by Austin Wishard, who went 3 for 4, and Peyton Koopman and Steve Wagner, who had two hits apiece.
Wagner pitched five innings, allowing three hits and recording four strikeouts. Austin Shepard relieved Wagner and pitched the final three innings. He also struck out four batters.
"We received another good start on the mound with Steve," Hubel said. "The players have been working hard on their defense skills and it really showed in this game as our defense kept us close and then gave us the chance to hold off Centennial's late-inning charges. I know our team will hit and score runs, so it is our defense that I am always most concerned with. I hope that our defense will continue improving."
Last Thursday against the Bonanza Bengals may have been the best game this summer for Eagles.
Jake Hubel pitched a complete game, allowing two runs on four hits, while striking out eight batters. He also led the offense, batting 3 for 3 at the plate. He had two doubles and two RBIs.
Adding to the offensive attack were Shepard, Wishard, Mike Morelli and Aaron Kehoe, with two hits apiece. Shepard, Wishard and Kehoe also each had two RBIs.
"This was our first game this summer where we played solid defense the entire game and had no errors," coach Hubel said. "Our players are starting to understand that they can and will achieve much success when they do the little things well."
The Eagles ended the week by beating the Bonanza Bengals 5-2 Saturday night at Whalen Field.
"We had a great turn out and I am glad that we did not let our fans down," Hubel said.
Seth Kermode made his first start on the mound and pitched six innings, while allowing three hits. He was strong, striking out six batters.
"I was pleased to see Seth go out there and perform well," Hubel added. "I expect many more great pitching performances from Seth, as I know he has them in him."
Kermode also helped his cause offensively with a timely hit that led to a run. Will Knudsen had a single and one RBI, while Jake Hubel had a double and an RBI. Shepard and Wagner each had key singles as the Eagles rallied. Kehoe pitched the final inning in relief.
"This summer season is off to a successful start because the kids are working hard," Hubel said. "I was pleased with how our players stayed focused and performed under pressure. So far, our season is turning out as I had hoped with our kids getting playing experience while improving their baseball skills."
"It has made my job much easier working with an excellent coaching staff, which includes Al Kermode, Nick Morelli and Brian Shea. Everyone is doing it for the team."