Eagles baseball team tops summer division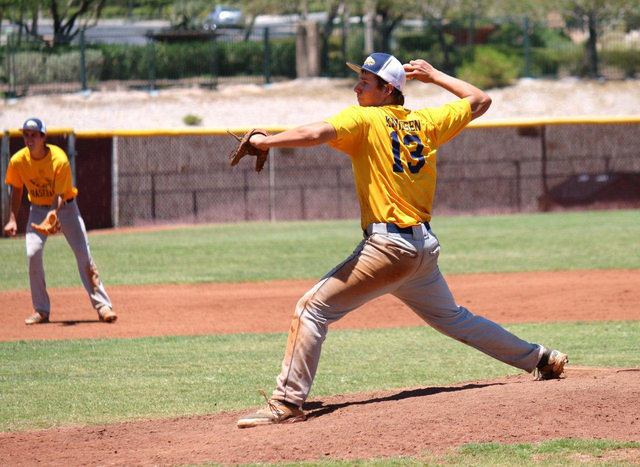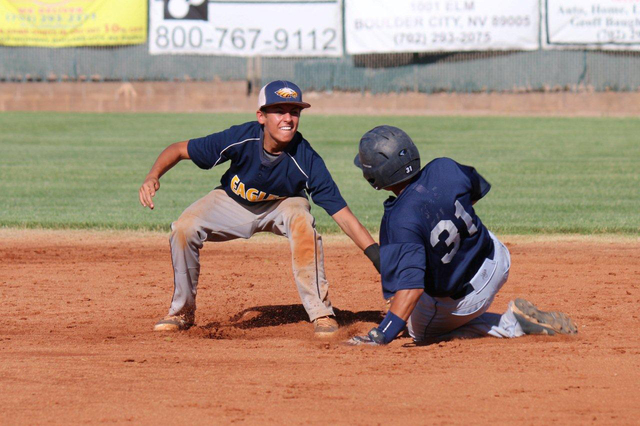 The Boulder City Eagles 16-under team finished in first place in its division in the Connie Mack Baseball Summer League and has advanced to the state playoffs that began this week.
The Eagles, who have a 19-2-1 overall record, entered the playoffs as one of the favored teams along with SN Falcons, Summerlin Panthers and Green Valley Gators — each team ending the season at 8-2 or 9-1 in its final 10 games. But the Eagles have the longest winning streak with six games.
The top eight Connie Mack teams with the best records from the National and American divisions are competing in a double-elimination tournament that began Tuesday and concludes Saturday. The tournament champion advances to Connie Mack 16-under Western Regional in West Covina, Calif.
The Eagles opened the playoffs Tuesday as the No. 1 seed against No. 8 seed Desert Hills, which they defeated 9-2, and had a second game Wednesday against either the Summerlin Panthers (15-7) or Las Vegas Toros (15-6-1), depending on results. The Eagles were favored in both games and were expected to still be playing as the higher seeds advanced to today's quarterfinals.
The other teams are No. 3 seed Green Valley Gators (16-5-1), No. 2 seed SN Falcons (17-5), No. 6 LV Wildcats (14-7-1) and No. 7 LV Mustangs (12-10).
The two teams remaining unbeaten through today will play at 4 p.m. in the winner's bracket and the winner will advance to the championship series Saturday. The winner of today's game will have to be beaten twice by the surviving team.
"It is demanding to play and win four to six games in only five days," head coach Ron Hubel said. "But we have a group of hardworking kids, and I like our chances.
"Our final week was a great way to finish our regular summer season and to be on a six-game winning streak. It was a great confidence builder for all of our kids, and gives us momentum going into the state tournament. My hat goes off to my assistant coaches, Al Kermode and Brian Shea. Without their baseball knowledge and their dedication to our players, I truly believe that our team would not have achieved the success that it has so far."
The Eagles ended their regular season Friday with an 11-2 victory against the LV Wildcats.
Peyton Koopman started the game and gave his best pitching performance of the season, Hubel said. Koopman threw five innings and struck out nine batters, while allowing only three walks.
"That was the pitching performance all the coaches had been waiting for from Peyton all summer," Hubel said. "The coaches have worked hard with Peyton this summer, and his dedication is paying off. If he can perform like this in our state tournament, it will give both Peyton and our team a tremendous boost of confidence and a serious chance of winning the tournament."
Austin Wishard pitched the final two innings and had three strikeouts and gives the Eagles a late-inning threat that can shut down teams.
Koopman and Austin Shepard each had three hits and Shepard added two RBIs. Jake Hubel had two hits and two RBIs, while Nolan DeSantis, Preston Van Diest, Mike Morelli and Steve Wagner each had one hit. Koopman, DeSantis, Wishard, Van Diest and Wagner added an RBI.
The Eagles played a doubleheader June 30, defeating the SN Falcons 7-6 in the first game behind Wagner, who pitched three strong innings. Van Diest relieved Wagner in the fourth inning and struck out seven of 11 batters. Koopman had four hits, including two doubles and three RBIs. DeSantis had two hits.
In the second game, the Eagles won 5-4 as pitcher Seth Kermode pitched four good innings, giving up only three hits and striking out three. Nick Giunta closed the game by pitching the final three innings. He struck out seven batters.
Wishard had a single and a double, while Koopman, Kermode, Morelli, Wagner, Kodey Rahr and Jared Barton each added key hits.
"As a team we are progressing defensively, which I expect will give us a big confidence boost going into the state tournament," Hubel said. "The players are starting to gel, playing as a team and running on all cylinders."
The Eagles also swept a doubleheader July 1 from Faith Lutheran. They won the first game 4-1 and the second 11-1.
Shepard was the winning pitcher in the first game. DeSantis had three hits and Van Diest had two. In the second game, then offense was active taking a 5-0 lead. Will Knudsen, Shepard, Wishard, Wagner and Jake Hubel each had two hits. Hubel got the win to improve his record to 5-0.
"This is the kind of start that we have come to rely on from our offense," coach Hubel said. "It was great to see our bats staying hot and our confidence continuing to build as we start the playoffs."