Duetto Ducks take title in coed softball league
November 11, 2015 - 5:53 pm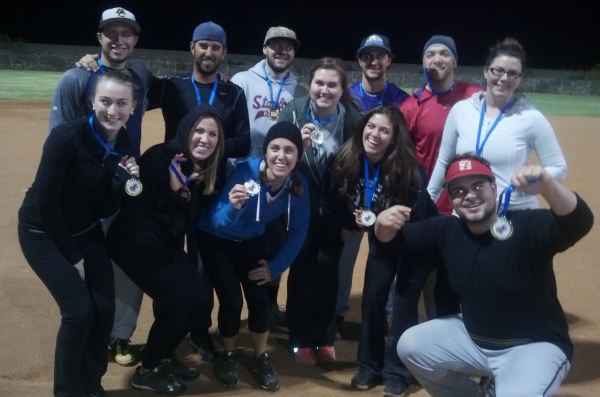 Duetto Ducks takes title in coed softball league
The Duetto Ducks won the title in Boulder City Parks and Recreation Department's fall coed softball league.
They scored consistently throughout the final game against Hammer's Bar and Grill as season and tournament play concluded Nov. 8.
According to Steve Corry, recreation coordinator, play was more like a hot August night than cool November as Hammer's Bar and Grill came out blazing in the opening loser's bracket game. The team upset regular season champ Jack's Place with a 16-run outburst in the top of the final inning to take the game 23-17.
Hammer's bats kept hammering away, pelting winner's bracket survivor Duetto Ducks with a 22-12 victory.
But it was in the tournament final that their bats begin cool down. Hammer's tried to stage a late comeback in the top of the fifth inning with five runs but Duetto maintained control with three runs in the bottom of the fifth of a 16-8 victory.
Coed play will resume in the spring.
The men's softball league is down to its final week of the regular season, with tournament seeding on the line in this week's play.
The top three teams are playing the bottom three teams tonight and neither league leaders, Time to Mash or Pit Stop, can afford to let a win slip away.
In last week's action both teams kept pace with the other as Pit Stop doubled up the Credit Union 20-10 before pulling out a late inning squeaker 12-11 in the nightcap.
Time To Mash was an easy winner over Duetto 20-7 and 21-5.
Duetto plays Papillon in the night cap this week and can still slide into third place with a doubleheader sweep.
Papillon has been taking care of business and owns a doubleheader sweep of Boulder Tree, 16-6 and 18-11, from last week's competition.
Tournament action begins Tuesday.
Standings
Men's league: Time to Mash, 15-3; Pit Stop, 15-3; Papillon, 10-8; Duetto, 8-10; Credit Union, 6-12; Boulder Tree, 2-16
Turkey Shoot set for Tuesday, Wednesday
Boulder City Parks and Recreation Department will hold its annual Turkey Shoot from 2:30-4:30 p.m. Tuesday and Wednesday in the gymnasium at ABC Park, 801 Adams Blvd.
The turkey shoot is a fun opportunity for kids, adults and senior citizens to shoot at a paper target and win a gift certificate. Participants receive eight shots for $1 and the highest score wins.
Boulder Dam Credit Union is sponsoring the event.
Contact the Parks and Recreation Department at 702-293-9256 for more information.