Cross-country team opens season with second-place finish
September 10, 2014 - 12:42 pm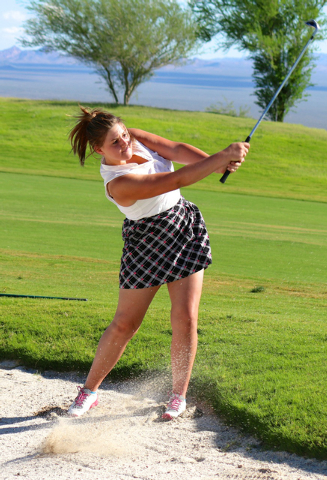 The Boulder City girls cross-country team finished second in the season-opening Las Vegas Invitational Saturday at Sunset Park.
Led by Sierra Selinger and Jessica Embro the Lady Eagles scored 77 points to place behind small-school champion The Meadows, which had a winning low-score of 22 points.
Selinger ran 22 minutes, 20.9 seconds over the 3.1-mile course to finish in seventh place, while Embro ran 23:05.0 to place 11th.
"It was an outstanding effort for the girls for the first meet of the season," head coach Canaan Petersen said. "They were the highest finishing Division I-A team. It was the first race of the year and it was evident by the kids still learning their own race pace.
"The girls had a great day, especially Sierra who was one of the three freshmen that raced. At about the 2-mile mark, I merely told her to start passing people and finish strong. She did just that. Her seventh place is an excellent start for a freshman and it will be exciting to watch her as she moves through the season.
"Jessica also finished well, but I know she has more in the tank and I really think she and Sierra are going to push each other to be the best in the league."
Emma Torgeson ran 24:37.8 and placed 18th, while sister Camille Torgeson was 21st with a 25.26 effort.
The Lady Eagles edged Division I-A rivals Clark (79 points), Tech (93) and Cheyenne (114).
The boys struggled to a seventh-place finish with 174 points in the small-school race among the 25 teams entered. The winner was Utah's Hurricane High with a low of 60 points, followed by five of Boulder City's Division I-A opponents.
Tyler Campbell ran 19:43.2 over the 3.1 miles to finish in 21th place.
"Our boys team ran well, but I know we can run better with more practices under our belt. We are a fairly inexperienced team with only one junior leading the team," Petersen said.
Joren Selinger finished just behind the top 25, as did Caleb Shamo. Freshman Sam O'Berto and Tyson Morris also contributed toward the team score. Among Division I-A teams, the Eagles would have placed seventh as a team.
"I simply looked at the guys afterward and stated nice job," Petersen added. "But we have a lot of work to do in the upcoming weeks."
Both teams also competed in the Division I-A meet Wednesday at Hemenway Park, the home opener.
Both teams will run at 8 a.m. Saturday at The Red Rock Invitational at Floyd Lamb State Park.
Girls Volleyball
Boulder City (4-4) will open its Sunrise League schedule at 6 tonight at Del Sol.
The Lady Eagles, led by middle blocker Kinsey Smyth and outside hitters Sam Hanson and Lauren Pocius defeated Desert Oasis 26-24, 23-25, 25-21, 25-23 on Sept. 3.
They also played Tuesday at home against Basic and have games scheduled Sept. 15 at Desert Pines and Sept. 17 at Tech.
Girls Golf
The Lady Eagles continued their season with a Sept. 8 match against Desert Oasis at Highland Falls Golf Course and a match Wednesday at Wildhorse.
Head coach Andy Schaper will count on senior Kelli Hatfield, sophomore Lauryn Norris and freshman Lani Potter to lead the Lady Eagles.
"It is our goal to improve in each match by eliminating key mistakes and playing smart," Schaper said. "The girls look forward to a fun season with the hope of playing well enough to make it to the state tournament."
The Lady Eagles have upcoming matches at 3 p.m. Monday at home against Green Valley and at 3 p.m. Wednesday against Silverado at Boulder Creek.
Soccer
Both the boys and girls soccer teams were off this past week and return to game action today with games against Chaparral. The girls play at home at 3 p.m., while the boys are on the road at Chaparral, also at 3 p.m.
They play Sunrise Mountain Monday (boys home; girls away) and Tech Wednesday (boys home; girls away).