Credit Union takes league title
March 19, 2014 - 12:22 pm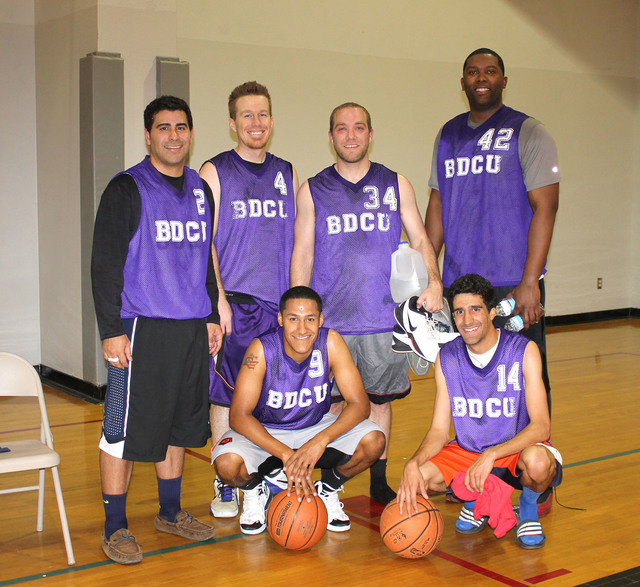 Guard Jonas Hernandez scored 20 points and center Eddie Willingham added 12 points and 21 rebounds as Credit Union defeated El Rancho Boulder 61­-47 to win the championship game in the Boulder City Parks & Recreation Men's Basketball League.
Rich Martinez scored 17 points and Dan Martinez added 12 for Credit Union in the March 13 final played at the Recreation Center. Credit Union ended 11-­2 and was the regular season champion and No. 1 seed for the playoffs.
Ryan Teepen scored four points, Danny Bell scored four points and Ryan Westmore added four points for the champions, who did not lose in the double-­elimination playoffs.
"The guys came together and played real well," said Hernandez, who doubles as coach. "It's always fun to coach and win when you have a good team around you. There were some very good teams in the league and winning was not easy. I am proud of all the guys."
El Rancho Boulder, the 2012 champion, returned to the championship final after two semifinal victories March 11. Last year's champion Flight S2S did not reach the semifinal round.
Rocky DiAntonio scored 36 points and Paul Sanchez scored 16 as El Rancho Boulder defeated Fiochhi 77-­63 in an elimination game. Earlier in the day, El Rancho Boulder defeated gRIM reap 73­-59 as DiAntonio scored 22 points. Sanchez added 21 in the victory.
But the steady offense of Credit Union was enough to help it build a 24-­point first-­half lead.
"We took a good lead and just played hard to maintain it and get the win," said Willingham, a former junior college player. "It is always good to win the championship, no matter what league you play in. We had a good team and started 6-­0, but after two losses in the regular season some teams thought they could win this title. We just had to prove them wrong in the playoffs."
Baby ahead
Willingham was cheered from the sideline by new wife, the former Kate Elles. Elles coached the Boulder City girls basketball team in 2011-­12 and Willingham was an assistant coach when the Lady Eagles won 20 games and were Southern Region runner-­up. Previously, she coached at Garrett Junior High. Eddie and Kate were married in September and she is 27 weeks pregnant with a girl.