Colorful landscape park's main attraction
January 9, 2014 - 5:16 am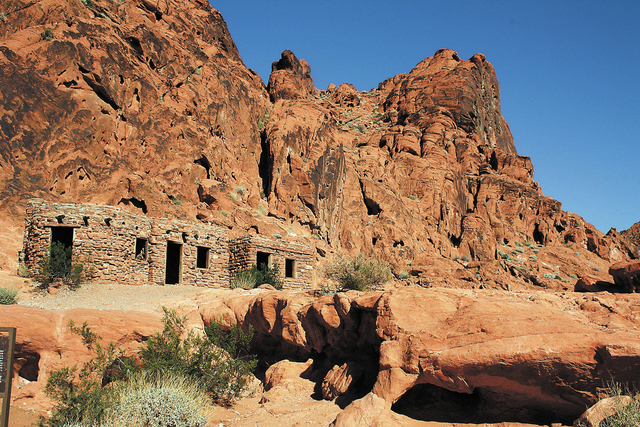 It's pretty hard to go wrong with an excursion to Valley of Fire State Park this time of year. The elevation is about 2,000 feet, like Las Vegas, so the depths of winter there usually mean daytime temperatures that are merely comfortable.
It's only an hour's drive from Las Vegas, yet has very few crowds. And while many of its attractions lie just off main roads and are accessible to those who can't walk far, or don't wish to, it also offers a plethora of foot trails, some suitable for beginning hikers and others challenging to veterans.
At about 42,000 acres, Valley of Fire is Nevada's largest state park. It's also the oldest, established in 1935. The park's colorful landscape is primarily made up of red sandstone, sculpted into graceful and dramatic shapes by millions of years' uplifting, faulting and erosion. Human history in the park dates back to 300 B.C. with people called the Basket Maker.
Although it's at the end of the park farthest from the main highway, the best place to begin a visit is at the visitor center. Here you can pick up a map and brochure and take a look around at the interpretive displays on the geology, ecology and history of the park.
From the visitor center a logical next stop would be at Mouse's Tank; its parking area is just 1 mile up the road.
An easy hike, only three-quarters-mile round-trip, takes you up a sandy wash, past hundreds of petroglyphs, to the tank itself. This natural tinaja was named for a fugitive Paiute who lived in this area in the 1890s. Mouse's knowledge of this natural water hole, in an exceedingly dry landscape, enabled him to evade authorities for some time.
Follow this same road to the end, or about 5½ miles from the visitor center, and you arrive at the White Domes trailhead. This hike is usually done as a 1¼-mile loop. There are some interesting formations along the way including a great slot canyon. There also is evidence of the film industry shooting some footage here.
The first part of the loop is like walking on a sandy beach but after just five minutes or so the walking becomes easier as you descend into a large, flat, open area. Here you will find the remains of a movie set built in 1965 for "The Professionals," a hit Western movie starring Burt Lancaster, Lee Marvin and Jack Palance. After visiting the old set, continue south on the trail and then head right in the large open wash and you will see the entrance to the slot canyon. Follow through this and go right up a small rise to continue your loop back to the trailhead.
Another place that shouldn't be missed includes Atlatl Rock, where visitors can climb stairs and see some very unusual petroglyphs including those representing the ancient spear-throwing weapon called an atlatl.
The Cabins were built by the federal Civilian Conservation Corps just after the park was established, and remain rather well-preserved ruins, worth a visit for their historic interest. Made of native sandstone, they were charmingly primitive and were appreciated by travelers in an era when they didn't expect luxury in overnight accommodations. When the park first opened, about 9,000 visitors came, while now more than 200,000 visitors come yearly.
Don't forget to bring a picnic lunch, or at least snacks, as the park offers no services. It does offer some very nice picnic facilities at Atlatl Rock, Seven Sisters, the Cabins and White Domes, all of which have shaded areas with restrooms.
It's a good idea to start your excursion in early morning, for you'll find much to see here and enjoy it more at a leisurely pace. The visitor center is open daily from 8:30 a.m. to 4:30 p.m. For more information, call 702-397-2088 or visit www.parks.nv.gov.
Many of Deborah Wall's columns were recently compiled with new information and photos in "Base Camp Las Vegas" and published by Stephens Press. She is the author of "Great Hikes, a Cerca Country Guide." Wall can be reached at Deborabus@aol.com.