Cedar Breaks brings cooler temperatures, stargazing opportunities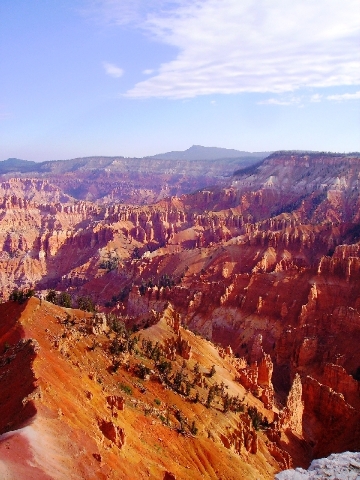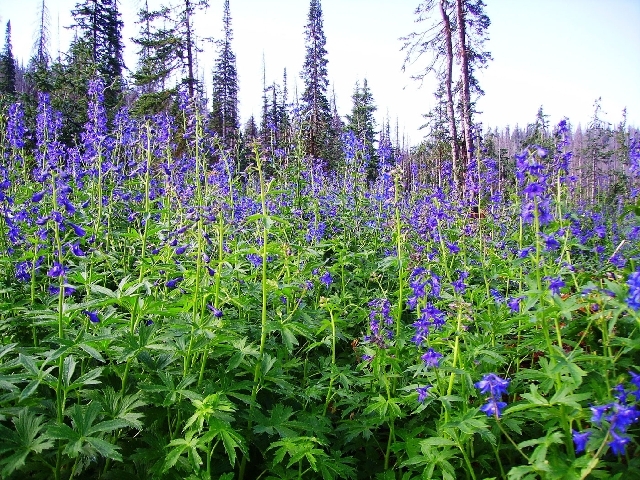 Everybody I know is dreaming of cooler temperatures and speculating on where to find them without entirely leaving the Southwest. My suggestion is Cedar Breaks National Monument, Utah.
At an elevation of more than 10,000 feet, summers there offer not only agreeable daytime temperatures but nights warm enough for comfortable stargazing at skies uncompromised by city lights. Summertime high temperatures average in the 60s or 70s with nighttime temperatures dipping into the 40s.
Visitors throughout the year — reaching the area in winter by skiing or snowmobiles — come to Cedar Breaks to see the giant hoodoo-filled amphitheater that is about 3 miles wide and 2,000 feet deep. But summers are also rich with wildflowers, which thrive on the fertile sedimentary soil and the monsoon moisture.
Among the wildflowers you might see in late July, some of the more prominent are scarlet paintbrush, yellow primrose, and the tall cones of purple lupine and larkspurs. Although you can see a good display just driving through the park, getting out and hiking one of the park's trails you see a more diverse display and can photograph individual flowers up close.
One of the best trails for admiring flowers is the Alpine Pond Trail. You can make this a two-mile figure eight loop or a one-mile round trip to the pond and back.
The trail takes you along the rim in a subalpine forest that is home to bristlecone pines, fir and Engelmann spruce. The spruce will be easy to tell because they all are mere skeletons, wiped out by the bark-beetle epidemic of the 1990s.
Children will enjoy the hike as the length is doable and the elevation gain is less than 200 feet. Be aware of some high drop-offs in a couple of areas; you will need to watch the younger set carefully.
Upon reaching the pond you might find wildflowers that thrive in the moist environment: Canada violet with irregular five-petaled white flowers and heart-shaped leaves; wild strawberry with yellow-centered white flowers and sawtooth leaves; Parry's primrose the color of raspberry sherbet; heartleaf bittercress, which concentrates its white blooms in rich clusters; and bog violets, which resemble your grandmother's prized African violets but grow there in profusion.
The park is also an excellent place to spend an evening stargazing. Skies there are some of the darkest in the United States, enabling you to pick out such famous summer constellations as Aquarius and Capricorn. Summer is the best time to show your child the Milky Way, which is really an edge-on view of the far-flung flat galaxy we earthlings live in. One of the best times for summer stargazing will be around Aug. 6, when the moon goes dark and does not interfere. Every Saturday night through Aug. 31 you can take part in the park's star parties that are kicked off with a laser light tour of the constellations, then proceed to viewing the skies through the large telescopes set up by the National Park Service and volunteers.
There will be a special viewing Aug. 12 to see the annual Perseids meteor shower. With clear skies you might be able to see about 40 meteors an hour.
The star parties are at Point Supreme Overlook. All these events are free and you don't need reservations.
Once at Cedar Breaks, going home to the desert heat is to be avoided as long as possible. Point Supreme Campground has 26 campsites, 10 available by reservation on www.recreation.gov.
The remaining sites are available on a first-come, first-served basis. All sites are $14 per night.
On Friday and Sundays there is a ranger-led program at the campground amphitheater on subjects ranging from wildlife to the history of Cedar Breaks.
The campground stays open until mid-September, depending on weather. Contact Cedar Breaks National Monument (435) 586-0787 and www.nps.gov/cebr/
Many of Deborah Wall's columns were recently compiled with new information and photos in "Base Camp Las Vegas" and published by Stephens Press. She is the author of "Great Hikes, a Cerca Country Guide." Wall can be reached at Deborabus@aol.com.