Cardboard boat races will use 'Frozen' theme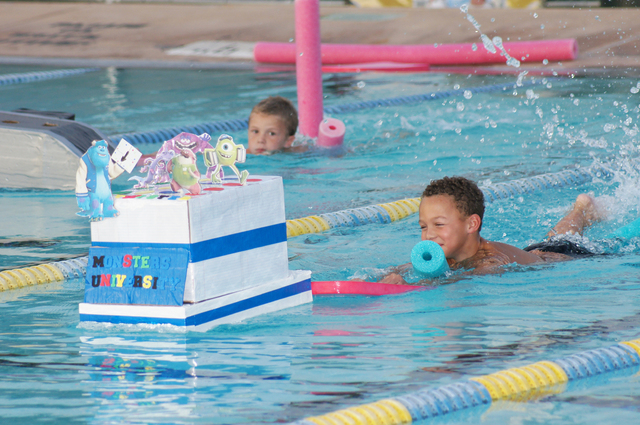 Boulder City's youngsters will be invited to "let them go" as they race their cardboard creations in the Parks and Recreation Department's 15th annual Cardboard Boat Races on Wednesday.
The theme of this year's event is "Frozen," and children are encouraged to design their boats around the theme.
Sheri O'Berto, aquatic coordinator for the city, said they typically get between 30 and 60 entrants.
"The kids sell their boats' theme," she said about their interaction with the judges.
Only cardboard, tape and glue can be used to build the boats. They can be painted, but not waterproofed. Any boat using plastic bottles, foam or other flotation materials will be disqualified.
All vessels must be at least 12 inches long and can be no larger than 3 feet.
Prizes will be awarded in several categories, including the most original, funniest and fastest sinking ship (the Titanic award). Additionally, first- and second-place medals will be awarded to the fastest swimmers in each age division.
Age divisions are 6 and younger, 7-8 years old, 9-10 years old, 11-12 years old, 13-15 years old and 16 and older.
For the actual race, children will ride a pool noodle like a stick pony and push their boats with a kickboard, O'Berto said.
Those children who cannot swim must be accompanied in the water by an adult. Life jackets will be available.
The festivities will begin at 6 p.m. with registration and judging. The races will start at 7 p.m.
All children younger than 8 must be accompanied by an adult, and those younger than 18 will need a parent or legal guardian's signature on the registration form.
Advance registration is suggested, but not required.
Each participant also will receive a goodie bag and a ribbon, and a variety of prizes will be awarded, O'Berto said.
There is no fee to participate. She said area businesses support the event and make it possible for them to offer it at no charge to the kids.
Registration forms and more information is available at the Boulder City Pool and Racquetball Complex, 861 Avenue B. Call 702-293-9286 for details.
Hali Bernstein Saylor is editor of the Boulder City Review. She can be reached at hsaylor@bouldercityreview.com or at 702-586-9523. Follow @HalisComment on Twitter.