Capitol Reef full of geologic wonders, fruit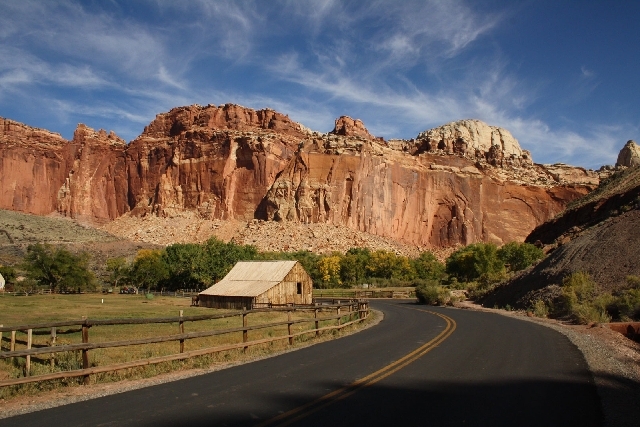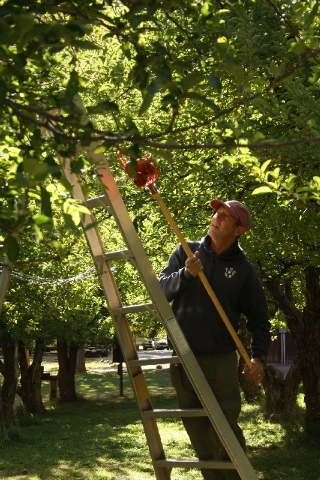 Capitol Reef National Park, in south-central Utah's red rock country, is a special jewel in our national park system. While most people visit to see, hike, or climb in the natural landscape, or to see the prehistoric rock art, many others go there to pick fruit or nuts. The park is home to the largest historic collection of orchards in our national park system with more than 3,000 fruit and nut trees.
Capital Reef's geologic wonders are themselves notable. The Waterpocket Fold, a huge wrinkle in the earth, extends almost 100 miles.
There are excellent scenic drives and there are dozens of hiking trails from easy to strenuous, taking you to the most scenic spots in Capitol Reef. The park is rich with arches, natural stone bridges, slot canyons and waterfalls.
But the opportunity to pick fruit has its own attractions, especially to modern city dwellers whose apartment lifestyles don't offer the backyard apple and peach trees that were formerly an iconic part of the American lifestyle. For those who grew up in small towns, the experience may be rich with nostalgia. For others it's a novel chance to select fruit at the precise stage of ripeness they prefer, and eat it at its ultimate freshness, only seconds removed from the tree.
We owe these opportunities to the nearby Fremont River and the pioneers who tapped it with irrigation ditches, created a remote settlement they called Fruita, and planted the orchards. They not only ate the orchard's bounty but preserved it and bartered it to others for whatever goods they could not make themselves.
In the park's Fruita Rural Historic Landscape area, listed on the National Register of Historic Places, the park service now takes care of the orchards year round, maintaining irrigation channels, pruning, mowing, planting, mapping and grafting.
You can stroll around in any of the orchards as long as the gate is unlocked. When it's fruit-picking season there are self-pay stations with scales and bags, and even ladders to assist you and baskets on the end of a long pole, to get fruit from the upper branches. While in the orchards you're allowed to eat all the ripe fruit you can.
During August, peaches and pears are at their ripest and the best harvest usually continues through the first week of September. Apple-picking time starts in early September and usually lasts through mid-October.
Elevations in the park range from 3,800 to 8,200 feet. The Fruita orchard area is about 5,500 feet. About 7 inches of precipitation a year fall in the park. Through September thunderstorms are common, so keep an eye on the weather and if rain threatens, don't enter any narrow canyons or trails located on along the waterways.
Developed camping is available at the Fruita Campground for $10 per night per site, all on a first-come, first-served basis. The 71 RV/tent sites are just south of the visitor center in the Fruita Historic District and along the Fremont River and have water, picnic tables, and grills. Bathrooms are nearby.
There is free camping in the more remote Cathedral (six sites) and Cedar Mesa (five sites) campground. Amenities here are limited to pit toilets and picnic tables, and they're also first-come, first-served.
For more information on the park, including scenic driving tours, hiking trails, camping and the historic fruit orchards contact Capitol Reef National Park at 435-425-3791, www.nps.gov/care.
While there are no services in the park, eight miles away in the town of Torrey you will find restaurants, cafes, a market, gas stations and a wide variety of lodging. Check it out at www.torreyutah.gov.
Many of Deborah Wall's columns were recently compiled with new information and photos in "Base Camp Las Vegas" and published by Stephens Press. She is the author of "Great Hikes, a Cerca Country Guide." Wall can be reached at Deborabus@aol.com.