California meet kicks off summer swim season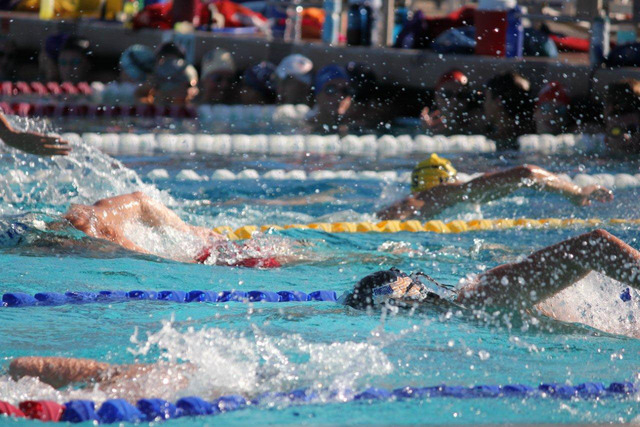 The Boulder City/Henderson Heatwave amateur swim club kicks off the summer season with the first of two major age-group swimming championships beginning today in Irvine, Calif.
Dozens of swimmers from the Heatwave will compete in the four-day event at the William Woolett Jr. Aquatics Center at Heritage Park in Irvine, Calif. Competition concludes Sunday.
The June Age Group Invitational (JAG) competition is one of two age-group meets of the long-course season. It is sponsored and sanctioned by USA Swimming, Southern California Swimming and Irvine Novaquatics.
The Boulder City/Henderson Heatwave is an amateur swim club with more than 400 swimmers on its roster.
More than 40 club teams are registered to compete this weekend. While swimmers compete in the high school season in yards, the long-course competitions are measured in meters.
The Heatwave will compete in a series of national-level swim meets throughout the summer, including the Mission Viejo Swim Meet of Champions June 26-29.
The Desert Championships July 19-20 is a last-chance qualifier for summer Junior Olympics as well as the last long-course meet of the season for those not qualifying for Junior Olympics.
The CA-NV Sectionals is July 23-27 and is the summer championship for National Group swimmers who qualify.
The SCS Summer Junior Olympics are July 23-27 and is the final age-group championship meet of the summer's long season.
The USA Swimming Junior Nationals July 30 to Aug. 3 is the 18-and-under national championships open to swimmers with qualifying times.
A few of the swimmers scheduled to compete this summer for the Heatwave are:
Jared Smith, Alex Hubel and Sammy Sauerbrei, who each turned in winning performances in February when the Heatwave finished seventh overall among 77 teams in the combined competition at the Southern California Swim Club Championships
They will lead a group of several dozen this weekend.
Other top swimmers are Joey Gebhart, Rachael Grothe, Evan Klouse, Braden Klouse, Jessica Purdy, Aubrey Klouse, Mandy Gebhart, Abby Sauerbrei and Joren Selinger.