Boulder City teen struggles in U.S. Open fishing tourney
September 17, 2014 - 12:38 pm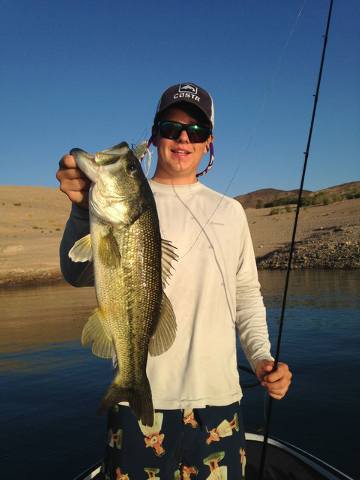 At just 17-years-old, Boulder City teenager Gunnar Stanton was the youngest professional to compete in last week's U.S. Open fishing tournament at Callville Bay.
Stanton struggled in his first tournament as a pro, finishing 90th out of 166. But the Boulder City High senior said he is optimistic about his future in the sport. His age, in a way, leaves him with a heavy chip on his shoulder.
"I kind of have a lot to prove," he said. "A lot of guys don't think you can do anything because you don't have the experience."
Regardless of his age, his fellow professionals viewed him as their equal, he said. A few even shared their advice with him.
"Some guys are kinda jerks out there, but for the most part everyone's pretty nice," he said.
Stanton spent three, nine-hour days on Lake Mead during the U.S. Open, one of the biggest fishing tournaments on the West Coast. He competed with some of the best fishermen in the region, including some from California, Arizona, Utah and Idaho.
Participants were allowed to catch five fish per day before weighing them. The fisherman with the highest weight total for 15 fish was crowned champion.
His local sponsors, which Stanton thanked for the support, covered the $1,600 entry fee.
Stanton started out strong after the first day by finishing 38th, but as the weather changed so did his luck.
"It's hard with Lake Mead because it changes so fast. Practice before the tournament was 105 with no clouds, slick on the water," he said. "Then a storm rolls through and it changes the water color and the fishes' eating habits."
Stanton dropped to 48th after the second day when he only caught four fish, and the following day was even more difficult as he only managed to catch two.
"The last day he just had a bad day, but he learned a lot from it," said his father, Olaf Stanton. "He's running with the big dogs, and those guys have a lot of respect for Gunnar."
Stanton's total weight of 16.26 pounds was half of the winning total. Clifford Pirch of Payson, Ariz., won the tournament with a total weight of 31.26 pounds.
Even though Stanton's 90th-place finish wasn't anywhere close to the place he hoped to finish, just getting out on the water makes it all worthwhile. In his eyes, practice makes perfect.
"Time on the water is never a bad thing. Just fish," he said. "Just watch the bait and see what they're doing. Other than that you just gotta fish."
Stanton said he'd like to attend Northern Arizona University after he graduates high school and hopes to join the Lumberjacks' bass fishing team.
Olaf Stanton praised his son for his time and dedication to the sport.
"He gave up baseball and golf for bass fishing, so we're behind him 100 percent," he said. "It's a little bit of luck and a little bit of skill. I'm sure as time goes on he'll develop his skills a little more."
Contact reporter Steven Slivka at sslivka@bouldercityreview.com or at 702-586-9401. Follow @StevenSlivka on Twitter.