BC swimmers fare well in junior national meet
December 17, 2014 - 2:09 pm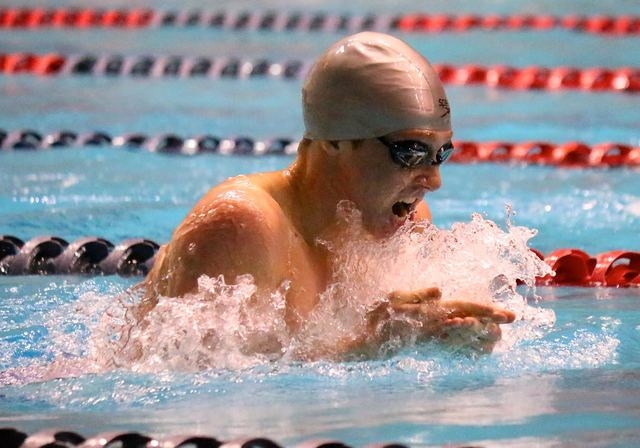 Three Boulder City swimmers competed and did well in the 2014 Speedo Winter Junior Championships Dec. 11-13 in Federal Way, Wash.
Sam Sauerbrei and Alex Hubel were representing Boulder City/Henderson Heatwave. They are seniors at Boulder City High. Montana Lloyd, a sophomore at Boulder City, was representing the Desert Storm Swimming Club.
Sauerbrei competed in three events, competing for his first time in USA Swimming junior nationals. He swam personal bests in all three events in addition to advancing in national cuts in short-course yards in the 200 butterfly and 400 individual medley.
In the 200 individual medley, Sauerbrei swam 1:52.09 to finish 54th. He was seeded 107 out of 156 swimmers before the event. His 3:57.73 for the 400 individual medley landed him in 31st place. He had been seeded 76 out of 100. In his 200 butterfly he swam 1:50.15 and finished 35th. He had been seeded 63 among 110 entrants.
Hubel, a senior who has signed a national letter of intent to swim at UCLA next year, qualified in four events. It is the fourth consecutive year that she has qualified to swim at USA Swimming's Speedo Winter Junior Nationals.
Her time in the 50 freestyle was 23.91, in the 100 butterfly was 56.39 and in the 100 freestyle was 51.67.
The senior said the highlight of her meet was the 200 freestyle where she qualified in preliminary races by placing 24th out of 145 athletes. In the finals that evening, she improved her time and climbed another six places to finish 18th overall with a time of 1:49.17.
Lloyd, competing in her first USA Swimming junior national meet, swam the 200 freestyle and the 100 and 200 backstroke. She recorded three personal best times and finished 43rd in 200 backstroke with a time of 2:01.27. She was seeded 73rd out of 131 swimmers in the event but improved by 30 spots.
On her 100 backstroke, Lloyd was seeded 130th out of 150 swimmers and again excelled to place 92nd.
"For her first junior nationals, Montana did a very good job," her coach, Bob Carroll, said.