Baseball teams start strong in opening week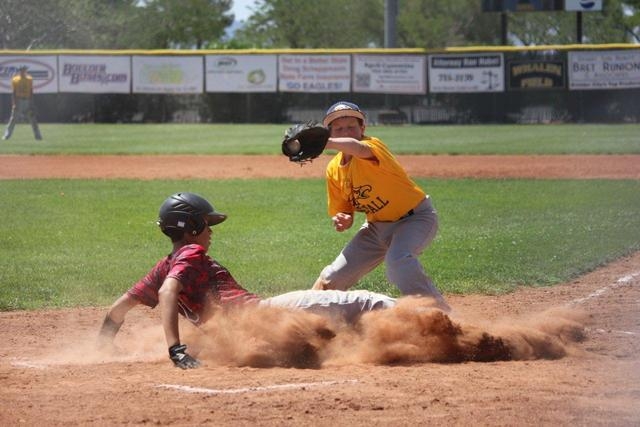 It was a successful opening week for Boulder City's teams competing in the Connie Mack Summer League, with the two squads combining to go 4-1.
The 16-under team started the season 3-0 under coach Ron Hubel, while the 14-under team began 1-1 with coach Bobby Reese.
"Both teams are off to excellent starts for the summer season," Reese said. "The kids are working hard to get better each day in practice and in games."
The older Eagles highlighted their week with a come-from-behind 7-6 victory Friday night against Foothill's N-Falcons.
"Beating Foothill's N-Falcons was a confidence builder and boost," Hubel said. "It showed the kids that they can play with anyone. Nick Guinta was the starting pitcher and gave us four strong innings. Peyton Koopman came in for relief and pitched well. Both pitchers kept Foothill off balance and threw strikes. We learned a lot from this game."
Against Foothill, the 16-under Eagles trailed 6-2 in bottom of the seventh inning but rallied for victory by scoring five runs.
"I was extremely proud of how our team played together, stuck together and how the older players helped the younger players," Hubel said. "I think that game was a great confidence builder. I look forward to great things from our guys this summer, and I know if they play together the way they did Friday night, they will have a successful summer together."
The Eagles' defense made some errors, and improving on defense is a priority, according to Hubel.
"There are some defensive positions that we need to work on, and that will be our primary focus this summer," he said. "We are still a young team, and we are gaining a lot of experience and confidence."
The 16-under Eagles started May 31 with a doubleheader sweep of Snow Canyon, Utah.
Hubel said his squad played well defensively and offensively.
"Pitching was also a highlight with Preston Van Diest starting the first game and Steve Wagner the second," he said. "We were also able to allow other pitchers the chance to pitch, and they did their jobs as well. The games gave us an opportunity to play everyone, and I feel that the team benefited. It showed the older players that they can rely on the younger players, and it gave the younger players an opportunity to play and perform against better competition."
The 14-under Eagles opened with a 14-1 victory against the Las Vegas Mustangs behind a four-hitter from Teddy Lobkowicz. The Eagles trailed 1-0 early but scored four runs in the first inning and closed out the game with a seven-run burst in the fourth.
In a disappointing 7-6 final-inning loss to the Wildcats, the Eagles received some good hitting from DJ Reese, who was 2-for-4, and Anthony Pacifico, who was 2-for-4 with one RBI. Jimmy Dunagan also had an RBI.
"So far, we have gotten three great pitching performances on the 14u from Teddy, DJ and Anthony," Reese said. "Summer ball is not as much about wins and losses as it is about learning and improving their game and becoming better rounded players."
The 16-under Eagles will be coached by Hubel, Al Kermode, Nick Morelli and Brian Shea, and the 14-under team is coached by Reese, who also coaches at Boulder City High School, Alex Moore and Johnny Nelson.
The seasons conclude with state tournaments in mid-July.