Activities, proximity make Lake Havasu City ideal getaway spot
January 21, 2015 - 2:04 pm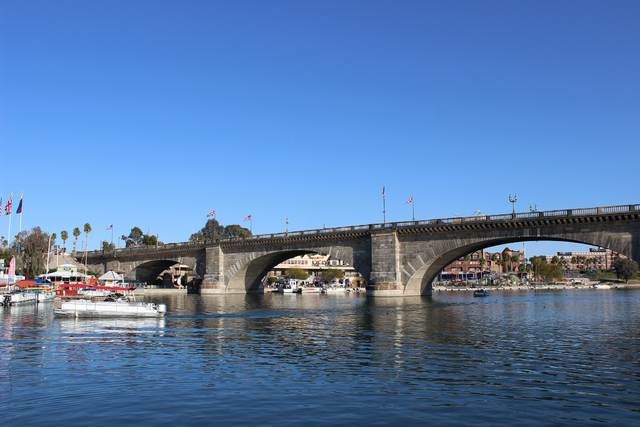 Lake Havasu City, Ariz., makes a great weekend getaway this time of year. During February you'll get to choose from an abundance of outdoor activities, including some of the city's most popular annual events. And you'll enjoy temperatures a little warmer than in Las Vegas — very pleasant for wintertime.
Most of Lake Havasu City lies at an elevation of a little more than 700 feet, and the lake surface level is only 450 feet, so expect February's average daily high temperatures to be at least in the high 60s to low 70s, ideal for outdoor activities.
On Feb. 7-8, the 30th annual Winterfest takes place. More than 200 vendors with 400 booths will offer art, crafts and jewelry, some demonstrating on the spot how they create such beautiful things. There will also be plenty of children's activities and a wide variety of entertainment, food and even a beer garden. For further details, contact www.havasuchamber.com or 928-855-4115
Feb. 12-15 brings the extremely popular Western Winter Blast Pyrotechnics Show at Special Activities and Recreation Area Park. Fireworks begin at 5 every night. The organized segments begin at 7:30 p.m. with the largest show on Saturday. For details, visit www.westernpyro.org or call 928-453-3444.
Almost simultaneously, Feb. 13-15 brings Lake Havasu City Rockabilly Reunion. Located at Lake Havasu State Park on the edge of the lake, this is a themed car show and music festival all in one. Visit www.lakehavasurockabillyreunion.com, or call 928-846-0335 for more information.
Feb. 26-28 offers the Lake Havasu Music, Brews and BBQ Championship, the second largest barbecue championship west of the Mississippi. Besides some of the best barbecue imaginable, you will have access to live music, craft booths and joint show of cars, motorcycles and boats. Microbrews are featured, as well as a family and kids fun zone. The venue is Lake Havasu State Park. Visit www.musicbrewsbbq.com, or call 928-208-2375 for details.
For more adventurous souls, on Feb. 21 there will be a Mountain Bike Association of Arizona race. The race welcomes hard-core mountain bikers who will tackle the 10-mile loop of the Watershed Trail at SARA Park. This tough trail is half fire road and half single track, with 1,000 feet of elevation change. Visit http://mbaa.net or call 480-442-4229.
Even discounting special events, there's plenty to do around Lake Havasu City. Obviously one shouldn't miss London Bridge, the town's most famous attraction. As you may already know, this is the actual London Bridge celebrated in song, story, children's games and history lessons. Originally built in 1831, it was bought by Lake Havasu City's founder, Robert P. McCulloch, and dismantled in 1967. The bridge's pieces were shipped to America via the Panama Canal and then transported by truck from Long Beach, California. It was reconstructed and reopened in 1971. The Lake Havasu City Visitor Center offers a 90-minute walking tour of the bridge. For more information, visit www.golakehavasu.com or call 928-855-5655.
Directly north of the bridge, in Bridgewater Channel, you will find the 65-foot long Tecopa Ferry. This is the most reasonable way to get out and see the lake. The ferry takes approximately 17 minutes and takes you across the lake to Havasu Landing Resort and Casino in California. Operated by the Chemehuevi, the casino, is a destination for those who want to gamble, enjoy good food and maybe stay a while to enjoy the lake view.
When I do this trip I just get off and then return on the next ferry on its return, just minutes later. It is a great way to get out on the lake. The ferry ride itself is a heck of a deal, only $2 round-trip and it runs constantly throughout the day and into the later evening hours. A schedule can be found at www.havasulanding.com.
Other outdoor activities include a multitude of hiking trails in the area. Depending on how much time you have, and the level of exercise you are seeking, choices range from trails that are easy, less than one mile, to difficult full-day hikes of 10 miles or more. For a basic list of hikes, go to www.golakehavasu.com.
For more information on Lake Havasu, upcoming events, lodging , hiking trails or camping, contact Lake Havasu Area Chamber of Commerce, www.havasuchamber.com, 928-855-4115, or Lake Havasu City Convention and Visitor Bureau, www.golakehavasu.com, 928-453-3444.
Many of Deborah Wall's columns have been compiled in the book "Base Camp Las Vegas, Hiking the Southwestern States." She is also the author of "Great Hikes, a Cerca Country Guide" and a co-author of the newly released book "Access For All, Seeing the Southwest With Limited Mobility." Wall can be reached at Deborabus@aol.com.