Absences, lack of practice blamed for loss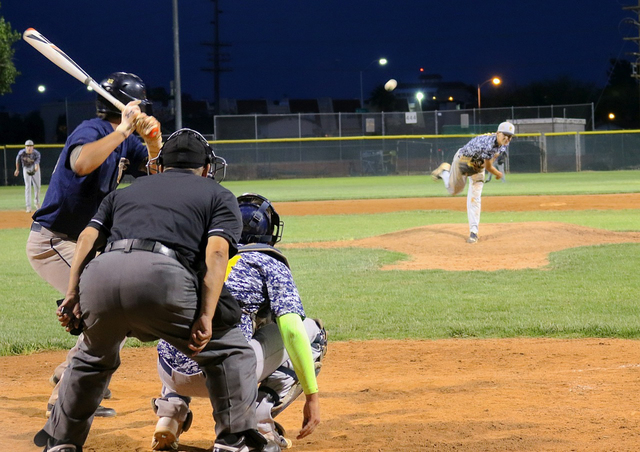 The Boulder City Connie Mack Baseball League 18 and younger team suffered another loss Friday, as the Foothill Falcons won the game 2-1.
But assistant coach Ron Hubel said the loss can be attributed to the busy week the Eagles had preparing for graduation, finals and visiting families. The busy schedules caused team practices to be a little scarce and the team to be a little rusty.
"We were missing some of our other players who should be there that played varsity for us," Hubel said. "That would have helped. I think in any game throughout the summer we will score more than one run when all of us are there together."
Jake Hubel pitched five innings, allowing only one run. He threw 80 pitches, 47 for strikes and two strikeouts. At the plate, he was 2-3.
"I believe that I pitched very well," Jake Hubel said. "My off-speed was working, and I had a couple good strikeouts."
Steve Wagner closed, throwing 42 pitches, 28 for strikes and two strikeouts in two innings. Kodey Rahr had one RBI.
With summer league the time for improvement, Jake Hubel said he knows exactly what he wants to work on.
"I would like to improve on knowing where to be when the play is made," he said. "Just, if a ball is in play, where do I need to be to back up? Or what I need to do if a ball is hit to me."
He hopes to accomplish those goals by seeking advice from other players and his coaches.
"I want to get a better attitude toward players and just in the game," he continued. "Because I try to keep my attitude as good as I can, but sometimes I just got to remember that this is just for getting better. … If I break down from that play, then my attitude just shuts down and I can't perform as well as I want to."
As a Boulder City player, Jake Hubel has a unique condition. His father is always on the field with him. Ron Hubel helps assist Boulder City baseball during the regular season and the summer league.
Most players might find having their father on the field intimidating, but that's not the case for Jake.
"I love it," he said. "I love just looking down at him at third base and seeing him either get mad or excited when I do something good."
Jake and his father are able to discuss the games, what went wrong and what can be improved on. Ron Hubel said he expects a lot out of his players, and his son is no different.
When they discuss baseball, Ron Hubel said he hopes that he can teach Jake and the other players from experience.
"It is a great experience to be able to coach and be out there with your own child, with your own son," Ron Hubel said. "I watch him. I want to keep an eye on him, make sure he is doing what he is supposed to do. And when he needs assistance, I try to help him."
"When I talk to him, I'm hoping I'm only talking to him from experience to get him better. I'm also the first one, when he does something well, to congratulate him," he said. "Celebrate the victories. Sometimes they're small victories, but they're victories. But, when he needs improvement and I see it, I'm only trying to give him suggestions to make himself better, not to bring him down."
On Tuesday, Boulder City lost to Green Valley 7-4. Aaron Kehoe had three RBIs and a home run, while Steven Mull had one. Mull also had four strikeouts during the two innings he pitched.
The Boulder City 18-and-under team plays until the middle of July, with its next game at 7 p.m. today against the Las Vegas Sundevils.
Contact Rochelle Richards at BCRsports@gmail.com.