Filmmakers tout festival; awards presented
February 20, 2014 - 5:00 am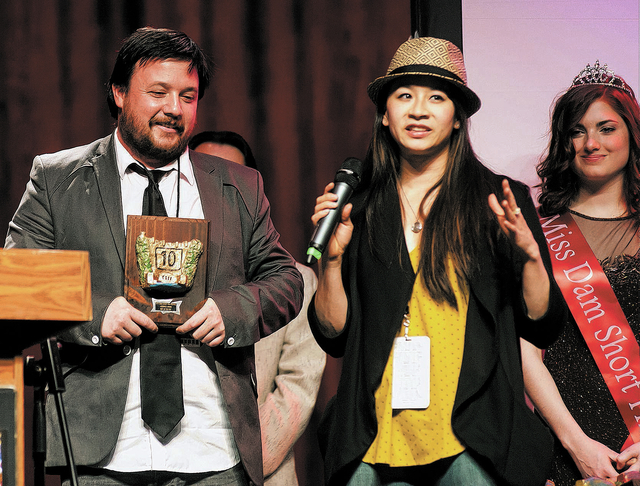 The Dam Short Film Festival wrapped Sunday night with an awards gala at the Boulder Theatre recognizing the talents of emerging filmmakers and signaling 10 years of success for the annual, home-grown festival.
The event began with a red carpet filmmaker arrival, a short performance by local musician James Adams and a proclamation to the festival from the city, read by Boulder City Councilman Cam Walker.
The gala was hosted by former Councilman Mike Pacini, who, with the help of Miss Dam Short Film Festival Sarah Dey, presented awards to 14 films in seven genres, as well as an overall Best of the Festival audience award.
An audience award determined by vote, as well as a jury award chosen by festival staff, were awarded in the student, documentary, animation, sci-fi/horror, drama, comedy and Nevada filmmaker categories.
The Best of the Festival award was given to the 20-minute action film "Croft" in which a woman fights off dozens of armed bad guys around a mountainous hideout to save a little girl.
Director Trevor Addie, who works as a stuntman in Vancouver, British Columbia, said "Croft" was the "first real film" he directed. Although he said he was naturally pleased with the encouraging award, he was more enthusiastic about the opportunity to have his film seen.
"I absolutely love this (festival)," he said after the gala. "We have an audience that is excited to see the movie."
Vancouver-based stuntwoman Irma Leong, who worked with Addie on "Croft," shared his sentiment.
"I think I'm just happy the people in Nevada, or Boulder City, appreciate our film," she said.
Los Angeles-based filmmaker Peter Dowd, who edits others' films for a living, won the best documentary audience award for his 18-minute film "The King of Size." Dowd said it took 12 years to make the film, which follows a former champion bodybuilder.
"It's a real privilege after all this time and all this work to have it shown here," Dowd said as he accepted his award.
Afterward, Dowd said he was surprised to win the audience award.
"I don't think of this film at all as a crowd pleaser," he said. "You have a real awesome audience, which is in tune with short films."
New York-based filmmaker Pablo Bonelli, who works as a bartender, won the audience award in the science fiction category for his 20-minute, post-apocalyptic thriller "Gasmask."
Bonelli said he had never attended a film festival but came to the Dam Short Film Festival for the networking opportunities, and was glad he did.
"This has been one of the best experiences I've ever had," he said.
Las Vegas-based filmmaker Adam Zielinski won the audience award in the Nevada filmmaker category for the 17-minute film "Firecracker," which he directed, about a child who gets revenge after someone beats up his dad.
Zielinski, whose films have screened at the festival for five years, said the walkability of Boulder City and the attention paid to filmmakers by festival staff make for a good event.
"They take care of you in a way a lot of festivals don't," Zielinski said.
The festival, which screened 171 short films during a five-day period at the theater, counted 2,835 seats occupied throughout the festival, organizers said.
The attendance did not increase from last year, and with a fifth day added this year, operating costs were up, festival director John LaBonney said. However, the business side of the festival "doesn't matter as much, as long as the filmmakers are happy."
LaBonney said the festival will likely return to its four-day format next year.