Zombies to Invade Downtown
October 15, 2014 - 1:13 pm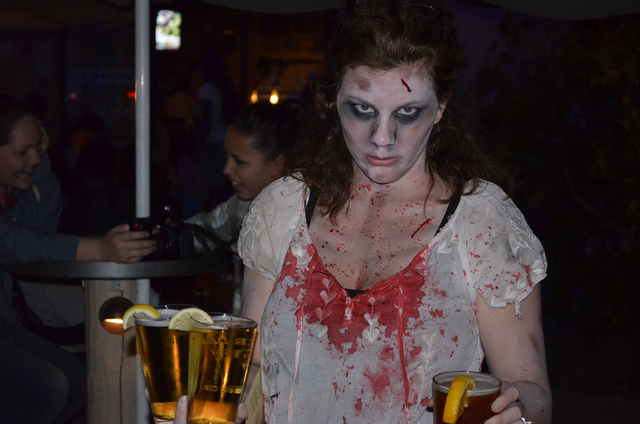 Don't be surprised if the often lively downtown area is a little dead Saturday night. Or, more accurately, taken over by the dead.
Boulder Dam Brewing Co. is partnering with the Las Vegas chapter of the Zombie Squad to present the fourth annual Zombie Walk.
The event, according to Todd Cook, owner of the brewing company, combines fun with fundraising and a bit of education. It's the mission of all Zombie Squad events.
According to the group's website, Zombie Squad is "an elite zombie suppression task force" that educates local neighborhoods about emergency preparedness when the zombie removal business gets slow.
"The difference is they do it tongue-in-cheek," said Cook, who also is a member of the organization. "It you prepare for the zombie apocalypse, you are prepared for anything else."
The Zombie Walk begins at 7 p.m. at the brewpub, 453 Nevada Way, where it also ends.
According to Cook, it is a fairly short walk that goes through the downtown area, traveling along California Avenue, through Hotel Plaza, and on to Wyoming Street before returning to Nevada Way.
"It's just a fun walk, a shamble shuffle. It's not a race," he said.
Television shows such as "The Walking Dead" have made the Boulder City event popular among people of all ages, including a 5-year-old who was completely into being a zombie last year, he said.
There were less than 100 people at the first walk in 2011 and last year's event attracted about 200 people, including 70 children.
A makeup artist or two will be at the brewpub before the walk to assist those who need a bit of help becoming zombies, Cook said.
After the walk, festivities include a party with food, drinks and entertainment by The Legendary Boilermakers, Rachelle and the Rising and Ditch Diggers.
There is a suggested donation of $5 per person for the walk and party.
All proceeds from the event benefit Veterans Care Assistance Program, a Las Vegas-based nonprofit that assists veterans.
The zombie walk came to Boulder City after the former president of the Las Vegas chapter of the Zombie Squad approached Cook one day when he was having lunch at the brewpub.
"They had done it on Fremont Street the year before and he liked the idea of having it in Boulder City. He just asked me if I wanted to do it and thought it was an awesome idea."
Cook said he liked the idea of getting involved with something that helped area charities, involved zombies and featured a huge party.
"To me, it seemed like a win-win-win for everybody."