Veterans see green this holiday season after group from 7-Eleven donates funds
January 4, 2017 - 2:00 pm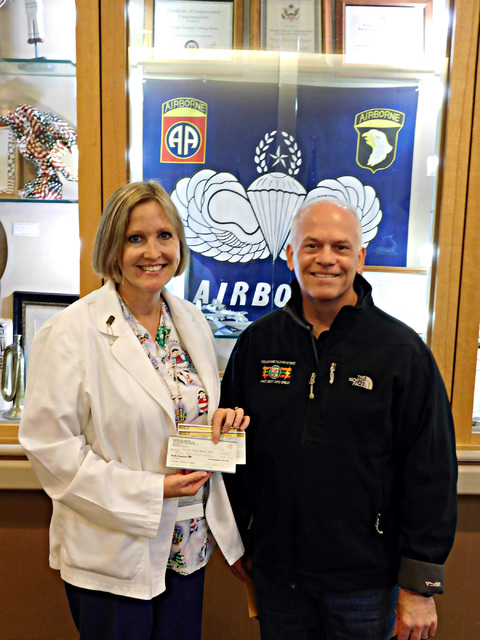 Living in the Nevada desert residents of the Nevada State Veterans home may not get to enjoy a white Christmas, but this year they received some holiday magic in the form of a little extra green.
Todd Ferguson is a member of the Southern Nevada 7-Eleven Community Involvement group and on Dec. 23 he called the home to ask if he could swing by with a little surprise.
Unbeknownst to the veterans home, more than 100 7-Elevens across Southern Nevada had been raising money for veterans, as well as law enforcement officers, during November. Donation jars placed on the cashier's counters at each location were filled by generous customers and two days before Christmas Ferguson drove in to deliver a check for $861.
"Every quarter, and almost every month, we support a different group or project," Ferguson said. "Some months the initiatives are national, but many times we do these on a local level. For November we chose to raise money for police and for the veterans home and, to be honest, I couldn't believe we hadn't targeted them sooner."
The group's goal was to raise at least $500 for the veterans home, so members were thrilled they were able to surpass that, according to Ferguson.
"I am a veteran myself and it really meant a lot to us to be able to do something for these people who sacrificed so much," he said. "The passion and dedication of the workers and the energy of the people living there, it was so inspiring. This may have been our first year doing this, but we've already decided we want to do much more in 2017."
The check was donated to the Nevada Veterans Assistance League, which helps residents cover expenses they might not otherwise be able to afford.
The home is funded by the U.S. Department of Veterans Affairs as well as insurance and private payments, but is not allowed to solicit donations so there are times when funding can run short, according to executive assistant Kristy Waggerman. The league often helps residents with little things not covered by the primary funding.
"They didn't tell us anything about it beforehand so the donation was an incredible Christmas surprise," Waggerman said. "The NVAL funds help residents with all kinds of things, from getting out to dinner and going to the movies to replacing items that otherwise wouldn't be covered, like a lost hearing aid. We are just so thankful for their kindness."
Those interested in donating to the home can contact volunteer coordinator Julie Boyster at 702-332-6741.
Contact reporter Hunter Terry at hterry@bouldercityreview.com or call 702-586-6711. Follow him on Twitter @HunterBCReview