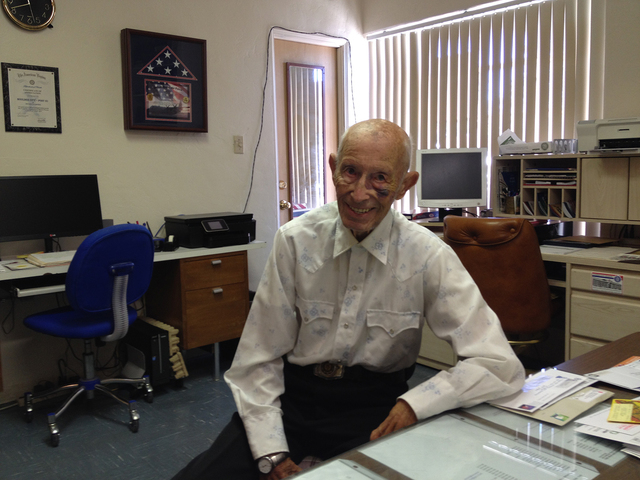 Clayton Glenn walked around the American Legion post in Boulder City, shaking hands with those who have come to help him celebrate his 94th birthday Tuesday morning.
Light on his feet with a grin on his face, Glenn passes each of his guests a piece of birthday cake. Never without a quick retort, his mind is still razor sharp.
"You're bringing me a piece of cake?" Glenn's good friend and fellow Legionnaire Lionel Motta says.
"No," Glenn sarcastically replies. "I just wanted to show it to you."
Glenn joined the American Legion in 1943 and is the oldest member of Post 31, which consists of about 180 members from Boulder City and Henderson. Established in 1919 by the federal government, the American Legion was implemented to help assist veterans returning from the deadly trenches in Europe.
Originally from Brockton, Mass., Glenn served as an aircraft mechanic in the Army Air Corps, which preceded the Air Force. He served in the Pacific during World War II, before he and his wife, Theo, came to Boulder City in 1957, where he still lives in the same house on Date Street.
In 1964, Glenn began a 17-year career working for the Bureau of Reclamation. Even with the busy schedule, he always stayed active with the Legion. Those who have gotten to know him throughout the years said he was always a great friend and mentor.
"I've never known anyone to dislike Clayton," said Legionnaire Ruth Taylor, who served as an aviation instrument mechanic in the Navy during World War II. "He's a man of honor and integrity."
Motta, who met Glenn 20 years ago and bonded instantly because of their Massachusetts roots, said Glenn was always there to help him, even if it meant telling him things he didn't want to hear.
"He always made time for me, never once did he not have time for me," Motta said. "I trusted his views and guidance more than most. Even if it hurt your feelings, he would tell you if you were wrong."
Glenn served as the Legion's state commander from 1998-99 where he oversaw 41 posts throughout Nevada. According to current Cmdr. Gregory Hall, that number has since dropped to 34.
Glenn also served on a board that helped bring the veterans cemetery to Boulder City in 1990. It's the same place where his wife is buried, and the place where he spends many hours volunteering.
Hall said sometimes Glenn would drive around Boulder City at 2 a.m. just so he could see what the town looked like at such a late hour.
"I'd tell him, 'There's only two things in Boulder City at 2 a.m. Riffraff and Clayton,'" Hall joked.
Glenn was unable to renew his license last year because his vision was failing. But according to Taylor, Glenn's inability to drive hasn't stopped him from enjoying life.
"He still walks around town all day," she said. "He doesn't let it get to him."
Glenn can be found shaking hands and sharing laughs with his fellow Legionnaires at their weekly breakfast every Thursday. Although he's been stern and honest with them throughout the years, his friends said it's that honesty that distinguishes him from the rest.
And even after a meaningful chat, Glenn has always been there to pat them on the back, or in this case, bring them a piece of cake.
"It's his dedication, patriotism and knowledge. He's very sharp," Taylor said. "We all look up to him. He's very special."
Contact reporter Steven Slivka at sslivka@bouldercityreview.com or at 702-586-9401. Follow @StevenSlivka on Twitter.