Vanetti earns national honor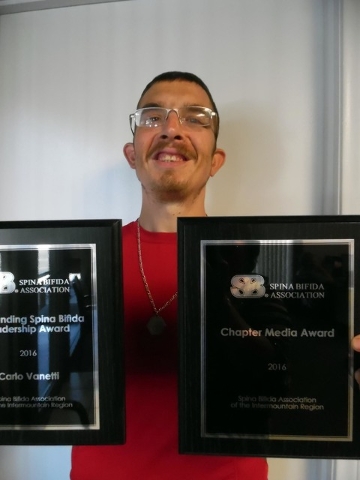 Carlo Vanetti is a humble man.
After earning national recognition for his efforts to bring great awareness about spina bifida and get those affected by the birth defect to enjoy a variety of activities, he insists he didn't do anything special.
"I wasn't even trying. I was just trying to inspire others to get out and do more," he said.
He may have not thought he did anything special, but fellow members of the Spina Bifida Association of the Intermountain Region, which covers Nevada, Utah and Idaho, nominated him for the national award after presenting him with their Influencer of the Year honor.
For his efforts, he was given the Outstanding Spina Bifida Leadership Award from the national association at its June convention in Minneapolis .
Additionally, he was responsible for helping the Intermountain Region chapter earn an award for the most growth in 2015.
According to Vanetti, his work helped the local group see a 155 percent increase in membership from 2014 to 2015.
"I just want to make lives better now for children and adults, and for the future," he said.
The chapter also earned an award for its media presence.
Vanetti is in charge of all the socials, and majority of the fundraising, for the Intermountain Region group.
'I try to do one thing every day. There are no days off. It's turning into a full-time job," he said.
But he doesn't mind. His enthusiasm for promoting the association and its activities is evident as he shows off pictures from recent events, including a recent outing to a Las Vegas 51s baseball game, where he threw out the first pitch.
He's also busy helping organize the Sept. 17 Walk-n-Roll for Spina Bifida awareness walk and adaptive health fair that will be held in Henderson's Cornerstone Park, as well as making sure the regional chapter will have a booth at October's Art in the Park in Boulder City.
In addition to his work with the local chapter, Vanetti is the national liaison for the Spina Bifida Association.
While he still doesn't believe he has done anything out of the ordinary, others in the the national association want him to travel to inspire and motivate other chapters, he said.
Vanetti said he became involved with the Spina Bifida Association a few years ago after applying for a grant to attend a national convention in Anaheim, California. One of the stipulations of the grant was that he had to get the local chapter back on its feet.
The conventions are where he can get the most recent information on treatment advancements, as well as make connections with doctors and others with the neurological disorder.
"It helps connect the dots," he said.
Spina Bifida is a birth defect affecting the spinal cord. It involves a split along the spinal cord and can cause physical and intellectual disabilities that can range from mild to severe.
Vanetti wasn't diagnosed until he was 15 years old because the typical signs and symptoms didn't appear until he was in his teens. He has one of the mildest forms.
He said he was having difficulties with certain bodily functions when his pediatrician began running tests and came up with the diagnosis.
Shortly after being diagnosed, Vanetti had his first major surgery to help untether his spinal cord, which he described as being pulled tight like an overly extended rubber band. The strain decreases blood flow to spinal nerves and damages the cord.
Though he lives in Henderson, he spend a great deal of time in Boulder City with his parents, Kris and Dan Thompson.
In addition to dealing with the effects of spina bifida, Vanetti also experienced a traumatic brain injury when he was 29. It is believed to have been caused by complications from a prescription nasal spray.
Hali Bernstein Saylor is editor of the Boulder City Review. She can be reached at hsaylor@bouldercityreview.com or at 702-586-9523. Follow @HalisComment on Twitter.