USS Nevada veterans from World War II reunite in Boulder City
February 17, 2016 - 3:28 pm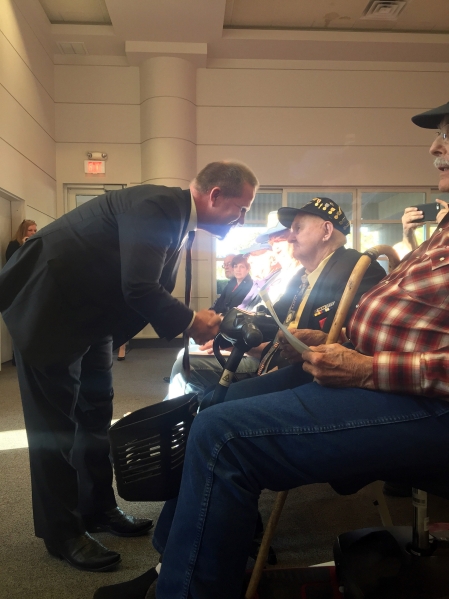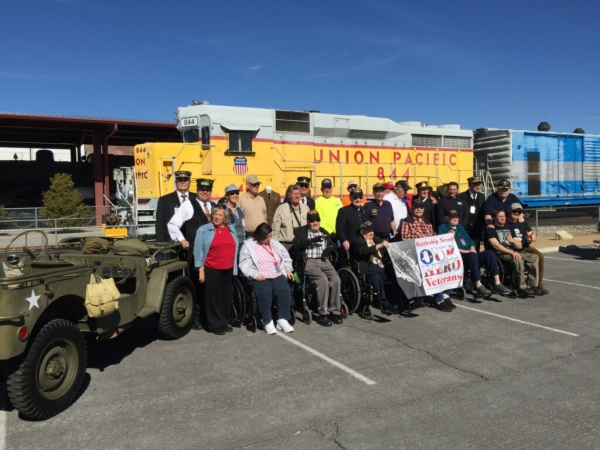 A passion for military history brought about a historical moment of its own last week as five sailors who served aboard the battleship USS Nevada during World War II visited the state to share memories of their service and honor their shipmates.
The veterans, Ansel Tupper, Les Putman, Byron McGinty, Richard Ramsey and Cliff Burks, and their families spent Feb. 10 in Boulder City, making stops at the Southern Nevada Veterans Home, where they were honored for their service, the Nevada State Railway Museum and paying their respects to those who died aboard the USS Nevada during World War II at the Southern Nevada Veterans Cemetery.
Chuck Pride, a military historian and veteran who served in the Vietnam war, reunited the five sailors in Southern Nevada to view a documentary he recently finished on the floating fortress titled "Battleship Nevada." The battleship, which endured historic assaults such as the Pearl Harbor attack in 1941 and the D-Day invasion of Normandy in 1944, is celebrating its Centennial year; it was commissioned on March 11, 1916.
"Boulder City is the heartbeat of veteran activity in the state," Pride said. "It is great that we had a chance to come here."
City Councilman Duncan McCoy, who is a veteran of the U.S. Navy himself, read a message from Mayor Rod Woodbury, who could not attend the ceremony. Woodbury declared that Feb. 7-12 will be known as Battleship USS Nevada week in Boulder City. McCoy went on to deliver an emotional reading of the proclamation from Boulder City.
Nevada Lt. Gov. Mark Hutchison also attended the tribute at the cemetery and spoke about how significant it was to have these five veterans in Boulder City.
"It is an emotional experience to be here and pay tribute, to not only the battleship, but the men who were on the ship," he said. "I'll count this as one of the greatest experience of my life to be here with five of the sailors of the USS Nevada."
Hutchison showed his gratitude to those who served, and thanked them for fighting to make our country the way it is today.
"No state has taken more pride in the namesake of its ship in the military than the state of Nevada," Hutchison said. "We can see the system of government that is presented to our children and grandchildren because of these heroes."
According to Pride, gathering the five sailors was not easy. They all wanted to fly and have Pride interview them for his documentary individually. It was a task he deemed unnecessary, for what could possibly end up being a two-hour conversation.
"It's been extremely enjoyable finding out facts about the ship," Pride said. "I love researching things people should be aware about."
"You're in your own little compartment… and you're concentrating on performing your duty," said McGinty about what it was like being aboard the USS Nevada. "You don't really understand what's going on outside."
The 35-minute film by Pride, premiered at the South Point on Feb. 8-9.
Pride said he is currently in talks with PBS to air the documentary during in its spring pledge drive, which helps raise money to keep public television going strong.
Contact reporter Juan Diego Pergentili at jpergentili@bouldercityreview.com or at 702-586-9401. Follow him on Twitter @jdpbcreview.