Trunk or Treat returns Saturday
October 19, 2016 - 1:30 pm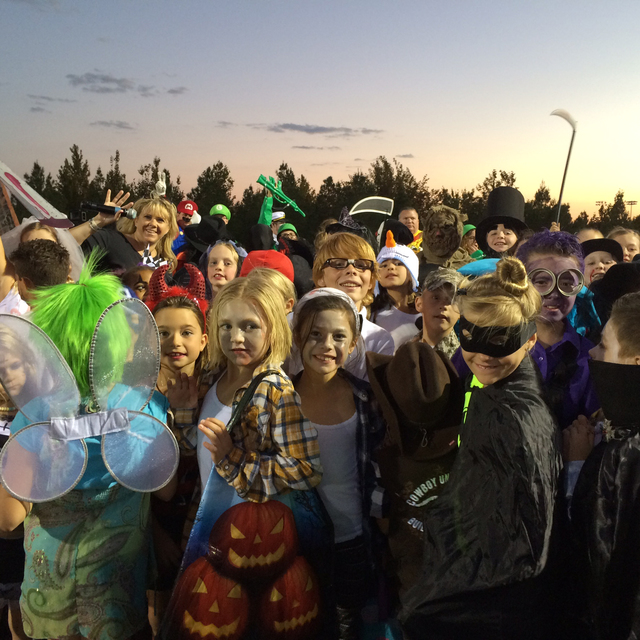 Halloween is just a little more than a week away, but for hundreds of local residents, the costume and candy festivities will begin Saturday as the Boulder City Chamber of Commerce presents the fifth annual Trunk or Treat in Veterans' Memorial Park.
Each fall, more than 500 children can be found bouncing from trunk to trunk in full costumed regalia, seeking candy from the more than 300 cars that line the parking lot just south of the fishing pond.
Many of the trunks will be innovatively decorated to attract the sweets-seeking masses. In the past, the themes have included such standouts as a pirate ship and a miniature haunted house. Children and adults alike will be able to compete for gift cards and other prizes in a pair of challenges. There will be a costume contest with four categories — scariest, most original, funniest and best group or family costumes — as well as an award for the best trunk.
Each year, the response from the community to this trick or treat alternative has been exceptional, according to chamber Chairwoman Brina Marcus, and she expects this year to be better than ever.
"Traditional trick or treating, walking the kids through strange neighborhoods, seems to be on the downturn," Marcus said. "But this is a safe alternative where families can let their kids run loose and have fun without having to worry about them getting into trouble. Boulder City is such a family-oriented town that this event just seems to be a perfect way to bring the community together for some spooky fun."
In addition to the Halloween fun, the field adjacent to the splash pad will feature a food truck and various activities to keep everyone entertained well into the evening. There will be a bounce house and a rock wall as well as a variety of games like human foosball and, for the first time, knocker ball.
Admission will be $10 per car; parking will open at 3:30 p.m., with trunk or treating starting at 5 p.m. and the contests beginning at 6 p.m.
For more information, visit www.bouldercitychamberofcommerce.com/trunk-or-treat.html
Contact reporter Hunter Terry at hterry@ bouldercityreview.com or call 702-586-6711. Follow him on Twitter @HunterBCReview