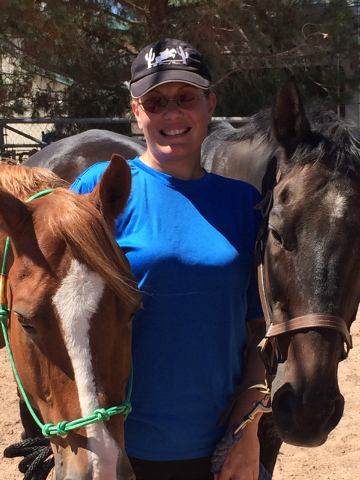 Jessica "Jessie" Mix is a contrast in energy. Dressed in breeches, T-shirt, baseball cap and knee-high riding boots, she almost flies around her barn at the Boulder City Horseman's Association's corrals.
Surrounded by the rodeo arena, big cowboy hats and western saddles and paraphernalia, she seems right at home at her tidy little barn. Her two horses, Redhawk, the paint, and Maximus, a thoroughbred that started his career on the track, appear to know and appreciate the love and respect she shows them as individuals and as a team.
Mix got her equestrian start on Long Island, N.Y., where she became involved in hunter/jumper and equitation competitions at an early age.
"I gained a lot of knowledge and a trunk full of ribbons," she said about her early experiences.
Mix later moved to Rochester, N.Y., where she cleaned stalls to pay her rent and began teaching others, sharing her love for horses and her passion for doing things the "right" way.
"I don't just teach people how to get on and off of a horse. I want to create a foundation in future horse owners so that they become responsible owners and riders," Mix said.
She came to Las Vegas in 2001 for a family vacation and, while talking to her family, expressed her dream of teaching horsemanship in the area. Her mother spoke up and asked to be her first student.
"That was an incredible experience because I never knew she was interested," Mix said.
She acquired Maximus in 2004 and, with the help of her family, bought Redhawk in 2005 on the condition that he be available for sale to move her business forward.
"Of course, Mom fell in love with him and he is still here," she said.
Mix is a volunteer trainer with LEAN, Local Equine Assistance Network, which rescues abandoned, abused and neglected horses that are "fostered" with horse lovers during their rehabilitation. After rehabilitation, they can be adopted by responsible horsemen.
Mix has recently agreed to offer riding lessons to the public for Boulder City Parks and Recreation. She will be teaching basic horsemanship, all levels of English riding and intermediate western riding.
"The only difference is the type of saddle and what you ask the horse to do. We want to offer the full riding experience to Boulder City," she said.
Dates and times for the lessons are arranged individually with each student and cost $40 per person for a one-hour session.
The Parks and Recreation Department will join Mix in offering discounts to veterans in the area and works with Horses For Heroes, a therapy program where wounded veterans can experience the joys of being on horseback.
Mix said her dream is to expand her classes with more horses and riders; she has already acquired several clients who compete on the local level.
If you see her riding in the arenas in her English rig or teaching someone the parts of a western saddle, remember that although she may not look old, there are many years of experience and knowledge in her head and she wants to share it with everyone she meets.
Mix can be reached at 702-372-0158 or by email at canteringcactus@rocketmail.com.