Traditional program kicks off citys holiday celebration
November 30, 2017 - 12:35 pm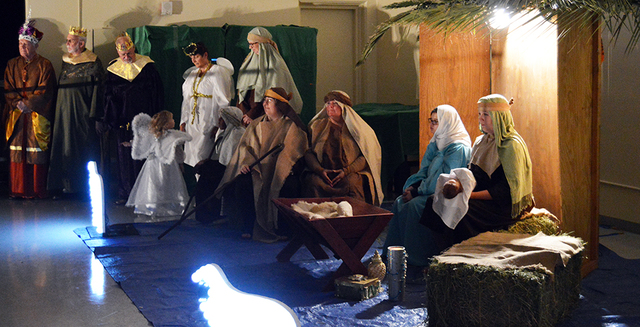 The holiday season is steeped in tradition, and none more so in Boulder City than the annual Luminaria and Las Posadas, which begins the local celebration.
The yearly event celebrates the birth of Jesus Christ with a processional and live Nativity scene and was started 28 years ago by the Boulder City Chamber of Commerce. In 2013, Boulder City United Methodist Church took it over.
It is free, open to all, and takes place at 6 tonight in the old gym at the Boulder City Recreation Center, 900 Arizona St.
"It is our gift to the community," said Pat Benke, who is organizing the event for the church.
This local celebration started in 1989 with a luminaria in Bicentennial Park. A luminaria is a Christmas lantern made from a small paper bag with a votive candle inside of it. They are weighted down with sand and usually put along a driveway, sidewalk or rooftop.
Longtime resident Connie Mancillas said that first year there was also some entertainment from local churches.
"We had a good variety," she said of the soloists, small groups and school choirs who performed.
Several years later, Mancillas wanted to add more so they started the Las Posadas processional, which is a re-enactment of Joseph and Mary's journey to find a place for Jesus to be born.
"To bring the whole community together, whether they have a denomination or a church, it's such a neat thing. … To me, it brings in the true spirit of the small-town holiday," she said.
The program also features narration and music from local residents.
Matt Brown, a soloist in the program, has been singing "Mary, Did You Know?" and "Christmas Shoes" for seven years.
"Ever since I was little my dad made music," Brown said of why he participates. "He talked about how music always brings people, no matter who you are, happiness. He died in January. The first thing I think of is this is something my dad would do."
Brown's three youngest children — Kaytlyn, Lyndsea and Aiden — also participate and sing the "Christmas Shoes" song with him.
The program also features a Christmas carol sing-along and hot chocolate. In addition, there is a canned food drive supporting the Senior Center of Boulder City.
Contact reporter Celia Shortt Goodyear at cgoodyear@bouldercityreview.com or at 702-586-9401. Follow her on Twitter @csgoodyear.
If you go
What: Luminaria and Las Posadas
When: 6 p.m. tonight
Where: Old gym at Boulder City Parks and Recreation, 900 Arizona St.
Cost: Free and open to the public