Too Cute to Cut! home bakery shop opens Saturday
August 15, 2013 - 1:03 am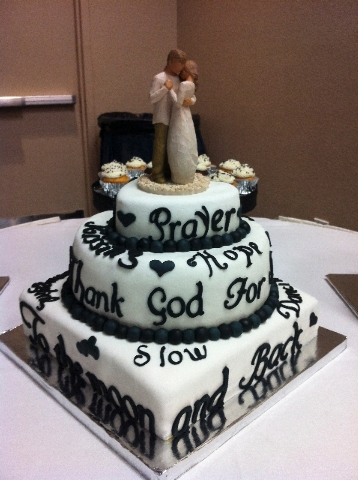 Chamber of Commerce member Alesia Martin is opening Too Cute to Cut! Custom Cakes, a home bakery. A grand opening will be held at the Martin home, 1222 Paiute Drive, Saturday at 6:30 p.m. The opening of Too Cute to Cut! Custom Cakes will present samples of different cakes and desserts for potential customers to try.
"It will be an open-house style since I am running the bakery from my home," Martin said.
In February 2012, Martin joined the Chamber of Commerce as a paparazzi consultant. "I have now changed my membership to showcase Too Cute to Cut!" she said.
Martin decided to open Too Cute to Cut! after the Nevada Food Cottage Law was passed July 1. The law requires that food products must be sold in person.
Restrictions of the law include selling more than $35,000 per year of food product. Also, refrigerated items, "such as cream cheese frosting," are not allowed, according to Martin, who had to go through Clark County health authority and pay a registration fee in order to open her home bakery.
"Everything I do is fully licensed through the city," Martin said.
About two years ago, Martin discovered her "God-given talent" after making a cake for her son's birthday.
"I started checking out YouTube tutorials on making cakes for family and friends," Martin said. "About a year or two ago, a petition for the Nevada Food Cottage Law was going around. I signed knowing that it would provide me with an amazing opportunity to do what I love from my home. This year, they passed the new Food Cottage Law, which became effective July 1. I immediately went and started the paperwork to start Too Cute to Cut!"
"I have been a Boulder City resident for almost seven years," said Martin, who lives with her husband, Ted, and their three children. "I have found since living in Boulder the community shows a lot of support to local businesses. I believe opening my home-based business will continue to help stimulate the economy even more and will be an asset to Boulder City."
Martin foresees orders coming in not only locally, but from Henderson and Las Vegas as well.
The desserts that Martin will create will be completely customized.
"I like to sit down with my clients and envision together what you are looking for in a cake," she said. "Everything I do is order-based. Customers have to meet me for a consultation. It's not like a regular bakery where you can just run in and pick up a cake."
Customers will be able to pick up or have their customized cakes delivered.
The exotic cake flavors include chocolate-covered cherry and strawberry, snicker doodle, Mountain Dew, poppy seed, white almond vanilla and banana . The self-taught baker says she can make just about anything.
"If a customer even has a recipe they like, I can make it for them," she said.
What was once a pastime has turned into a full-time business for the Martin family.
"This hobby eventually turned into a love and a passion to create amazing things through cakes and desserts," Martin said. "The best part about what I do is the element of surprise when your masterpiece is delivered. I enjoy making people happy on their special day."
For more information on Too Cute to Cut!, visit www.toocutetocutcakes.com or attend the grand opening event Saturday.