Tiny bubbles: Therapeutic baths help pets with skin issues
December 28, 2016 - 2:37 pm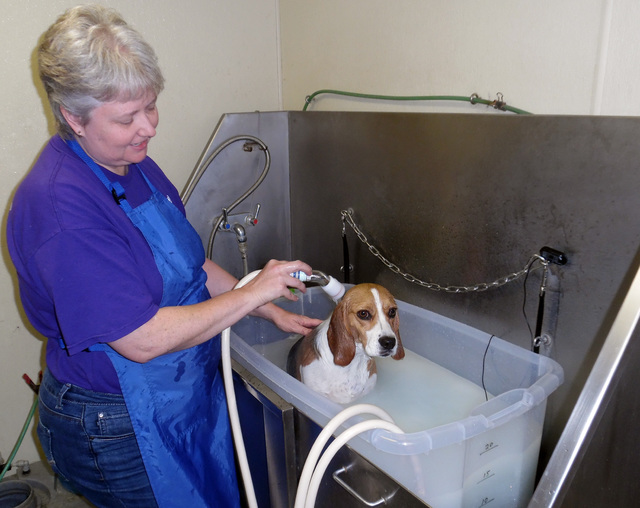 Professional Pet Room and Groom has established a reputation as a reliable home away from home for cats and dogs in need of boarding as well as the place for locals to get their furry friends cleaned up and looking their best.
Recently, the groomers added a new service to their repertoire with the Thera-Clean microbubble bath, a dog wash that offers therapeutic benefits as well.
Already in use in Japan for 15 years, the microbubble baths have been in use in the U.S. for the past three years, and Professional Pet Room and Groom is the first in the Las Vegas area to offer the service, which is ideal for dogs with skin conditions, according to owner Pearl Johnstone.
"It's all water, air and enzymes; it's hypoallergenic and there are no chemicals or anything abrasive," Johnstone said. "It's great for skin problems, like itchy or irritated skin and rashes, as well as open serious issues like wounds. It's also used to clean dead skin on burn victims."
Johnstone said the solution is warm, usually 99 degrees, and gentle, as the microbubbles are merely water and air. The active ingredient in the solution is the enzymes that aid in breaking down organic material and allow the tiny bubbles to clean deep into the skin's pores, where traditional cleaning methods can't reach.
"It offers a lot of benefits and it's totally safe — safe for drinking, safe over the eyes and safe for ears, even on the inside, as well as for yeast issues. Many clients have been able to cut out antibiotics after just the first week's treatment, which is good because they can be tough on dogs' stomachs."
Sandra Fraser is a regular client, and her 5-year-old dog Dylon has major skin issues and very little hair. After three treatments, she began to notice improvement in his coat, and while the dog had always had allergies and itchy skin, she said those problems have cleared up.
"I'm really happy with the results. Dylon's acne is all cleared up and hair is starting to grow back along his back and tail, which have always been major problem areas," Fraser said. "He had a scar in his ear that I couldn't get rid of, but the bath removed it."
The procedure generally takes 10 to 30 minutes and costs from $45 to $100, depending on the size of the dog. Fraser acknowledged that the procedure was a little costly, but said she believed it was worth it.
"I would definitely recommend a try if your dog is suffering. It can drive them crazy when their skin is all irritated," Fraser said. "I've tried a lot of therapies that have been ineffective, but this really worked. Plus, he really seems to like it, kind of like a dog Jacuzzi."
For more information, visit http://bit.ly/2i9xFs5. To make reservations, call 702-294-3111.
Contact reporter Hunter Terry at hterry@bouldercityreview.com or call 702-586-6711. Follow him on Twitter @HunterBCReview