Stars shine at chamber event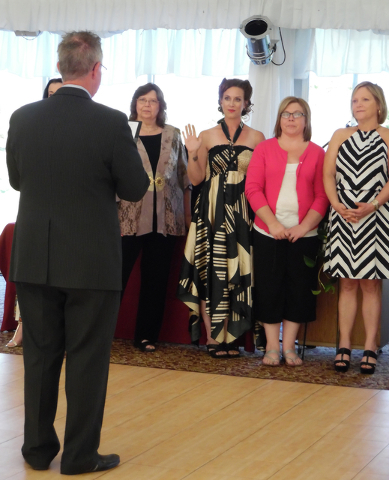 The stars were shining Saturday night as Boulder City Chamber of Commerce installed its new officers, recognized outstanding contributions to the community and presented its second annual Dancing With the Stars — Boulder City Style.
The evening festivities started with recognition of outgoing board members and the installation of the board of directors for the 2015-16 year.
Brina Marcus takes the helm as chairman of the board of directors. Additionally, she was named membership director, taking over duties from Connie Mansillas, who is retiring.
Marcus spoke about the varied benefits available by joining the chamber, especially online features, and said it is her goal to ensure that members take advantage of those benefits.
Joining Marcus on the board this coming year are Kelly Ferrence, Richard Louden, Julie McAnany, Brad McKinley, Monica Preston, Denise Senko and Kendra Wright.
Senko, who is outgoing chairman, offered heartfelt thanks to fellow members of the board and especially to chamber CEO Jill Rowland-Lagan "for her guidance, expertise and love."
She also spoke about highlights of her year, including events such as the Spring Jamboree, wine walks and Trunk or Treat; establishing new tiered membership levels; creating an ambassador buddy system; expanding the scholarship program and information technology support; and working on a new welcome wagon program for those moving to the city.
"Every day something phenomenal happens at the chamber," Rowland-Lagan said.
Before she presented awards, she spoke about how the chamber worked behind the scenes last year to make changes to state legislation that was meant to benefit those sponsoring events by having ready access to emergency services but instead created a hardship for small communities such as Boulder City.
Rowland-Lagan also talked about efforts to boost the city's economic basis and prepare for the construction of Interstate 11, and how those efforts align with Gov. Brian Sandoval's economic plan for the state. She spoke about renewable energy, medical services and unmanned aerial systems.
Awards were presented to Sew Eclectic, business of the year; Eric Estes, Bert Hansen business person of the year; Dr. Eldon Clothier, Bob Sears lifetime achievement; Boulder City Fire Department reserves, nonprofit of the year; Larry Bender, Jill's Jewel; Sandy Johnson, Eva McGarvey person of the year; Seth Sanford, youth community achievement; Charles Lawson, Alice Isenberg community achievement; Brina Marcus, Goldie Begley energizer award; and Kathy Hicks of Boulder City Social, entrepreneur of the year.
The evening concluded with the Dancing With the Stars show featuring community leaders and city officials. They were paired with professionals from Dance Etc.
The best effort trophy was presented to McKinley, while McAnany took home the cutest couple trophy.
Jared Baker of Scratch House was the evening's big winner, taking home trophies for greatest costume, judges' choice and audience choice.
Hali Bernstein Saylor is editor of the Boulder City Review. She can be reached at hsaylor@bouldercityreview.com or at 702-586-9523. Follow @HalisComment on Twitter.