St. Jude's puts careers in focus for youths
February 24, 2016 - 4:14 pm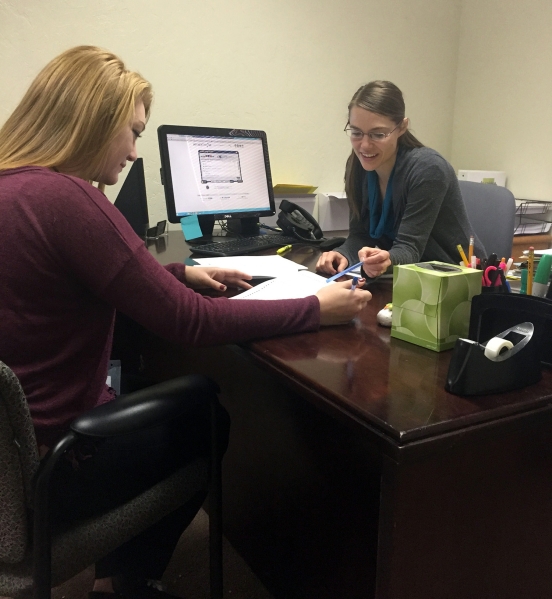 Anyone heading into town from Lake Mead or Arizona, can spot what looks like an old Spanish styled church on the right hand side of the U.S. Highway 93.
"Most of the time people pass by and just think we're just a church. They have no idea what else we do," said Jed Blake, grant director at St. Jude's Ranch for Children.
Rev. Jack Adam, or as he is better known as "Father Jack," built St. Jude's Ranch in 1966 as a haven for children who were abused, neglected, abandoned or lost their parents.
The 45-acre ranch provides an opportunity for the participants of its Youth Career Services program to gain valuable work experience, attain their high school diploma or GED, and contribute to their community.
"I think if we don't fit those participants in a good fit for their personality, then I think as a community we're missing out on what their potential is. Maybe they can be the next doctor to cure cancer but they haven't gotten an opportunity to use those skills," said Stephanie Collinsworth, program director.
The ranch has a referral base, which they collaborate with in order to find out which youth in the community need the most help before things get worse in their lives.
"We work with the Justice Court here in Boulder City, as well as the drug court, and the Boulder City Mental Health Clinic," Blake said. "The next phase is working with employers to get kids working in Boulder City. The goal is to complete post-secondary education, training and employment."
St. Jude's handles kids on a case by case basis to determine what vocation they would fit best in. According to Collinsworth, it is a relationship building process that the workers and the youth have to go through together to figure out what potential career they want to pursue in the future.
"There are currently 27 kids active in the St. Jude's program in Boulder City. Nine of those kids live at the ranch where they are looked after by a caretaker, who is an employee here at the facility," Blake said.
The youths who participate in the program get a chance to learn about internships, get occupational skills training and leadership development, and receive adult mentoring.
Collinsworth said she plans to focus the education the children are receiving around the STEM curriculum — Science, Technology Engineering and Math. These core subjects lead to careers in aerospace and defense, agriculture, health care, information technology, advanced manufacturing, mining, tourism and gaming, logistics and clean energy. They have been determined by the Governor's Office of Development to be the careers that will be the most helpful to a community in the future.
"They definitely have opened windows for me to new opportunities," said Taylor Vandenberg.
Vandenberg is new to the program and already realizes she wants to pursue becoming an elementary school teacher one day.
St. Jude's receives a $275,000 grant every year from the state, which goes toward staff, training for the youth and other support services that are needed to help program participants.
"We're saving lives every day," said Myesha Wilson, executive director of St. Jude's Ranch. "Not to sound like Whitney Houston, but they are our future and we have to take care of them so they take care of our community."
Contact reporter Juan Diego Pergentili at jpergentili@bouldercityreview.com or at 702-586-9401. Follow him on Twitter @jdpbcreview.