Spring Jam brings family fun to city
April 29, 2015 - 12:57 pm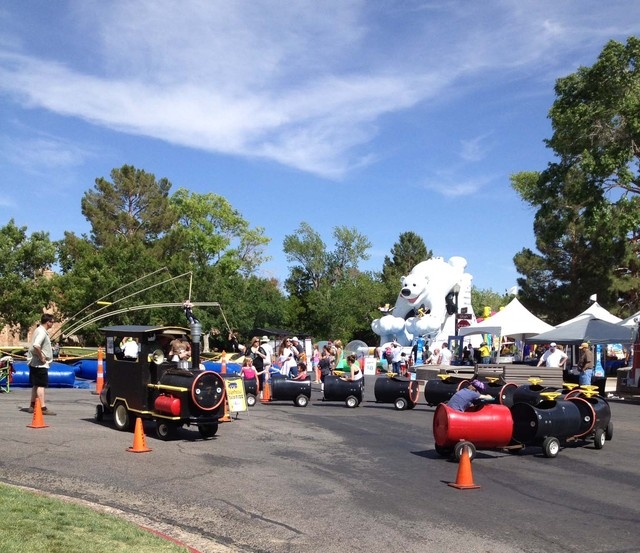 The re-emergence of that big yellow bee with the giant purple eyes means that Boulder City's Spring Jamboree is right around the corner.
The annual event that has been a part of the town's culture for the past 38 years returns Saturday, when festivalgoers can again revel in food, games, antique cars and warm weather to kick off the spring season.
This year's Spring Jam, sponsored by the Chamber of Commerce, includes performances from a range of acts, including the Boulder City High School Robotics Team, the Martha P. King singing club and nine bands.
The event starts at 8:45 a.m. Saturday at Bicentennial Park with opening remarks from Councilman and Mayor-elect Rod Woodbury. From 9 to 10 a.m., the Little Miss and Mr. Pageant, which has been a Spring Jam tradition for more than 20 years, takes center stage.
At 11 a.m., See Spot Run will present the Bark in the Park dog show and contest. Dogs and their owners will vie in categories such as dog/owner look-alike and best owner/dog costume, along with competition for the longest or smallest ears, scruffiest dog and best cute trick.
There is a $10 entry fee for the contest, with proceeds donated to See Spot Run. One entry fee covers all competition categories. A king and queen also will be crowned.
Chamber CEO Jill Rowland-Lagan said this year's Spring Jam will have all the events longtime guests are accustomed to seeing, along with a few new ones.
To complement the familiar arts and crafts booths and the antique car show, a rock and gem show will be held inside the recreation center at which visitors can get an informative hands-on experience with different rocks and minerals.
Aside from that, this year's Spring Jam will debut a farmers market. Several food and drink vendors also will be on hand.
Rowland-Lagan said popular demand helped the chamber increase the number of bands for this year's event to nine. Six will perform Saturday; three will perform Sunday.
The Kids Zone remains one of the event's most popular sections, Rowland-Lagan added. Besides a waterfall, giant hamster balls, bounce houses and a rock-climbing wall, kids, and some adults, will have a bevy of options to choose from.
The Kids Zone also will debut a human-sized foosball display, she said.
Rowland-Lagan said she expects 20,000 to 25,000 guests to attend Spring Jam during the weekend, though the count could change depending on the weather.
"Wind is our biggest adversary," she said. "We do the 'nonwind' dance."
As the chamber's lone annual fundraiser, Spring Jam helps promote Boulder City in and out of Nevada. The majority of the proceeds the event raises go toward brochures, contracts and other advertising that helps promote the Boulder City name, Rowland-Lagan said.
Money raised from the Spring Jam raffle and tips from the beer booth support scholarships for Boulder City High School students. Any money left over goes toward what Rowland-Lagan called a "community fund," which helps any cause around town that benefits the community.
The community, she said, is what makes the event so successful.
"It's a combination of not only a fun, festival-type atmosphere, but it's also because of the volunteers," she said. "It's really because of all the people in town who love Boulder City."
Contact reporter Steven Slivka at sslivka@bouldercityreview.com or at 702-586-9401. Follow @StevenSlivka on Twitter.