Seniors celebrate 13 years of Girl Scouting together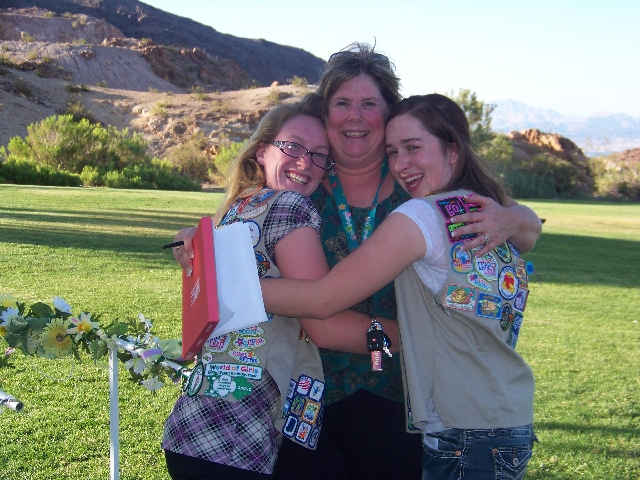 Friends Pamela Donohue, Cheyanne Echler and Jazmyn Lynne Ross have been in Girl Scout Troop 65 since the three were in kindergarten.
On June 4, the 13-year Scouts participated in a "bridging ceremony" where they moved from Girl Scout Ambassadors to adults, a ceremony which also brought an end to Troop 65.
The "bridging ceremony" also saw girls from Boulder City Girl Scout Troops 101, 79 and 518 move from one level of Scouting to another.
Donohue said there were "sometimes" when the girls "got tired" of looking at each other, but she enjoyed the traveling that Scouting offered.
Over the years she visited Sea World in San Diego, traveled to Carson City for the Capital Caravan where she visited the Legislature and learned about Nevada government, and camped in Zion National Park in Utah.
Donohue felt it was too soon to know if she was going to be a Girl Scout leader now that she has moved into the Adult Girl Scout level, which qualifies her to have a troop of her own.
For now, she plans to attend community college to study set designing and "anything that is show-related." While in high school, Donohue was involved with the technical aspects of theater for several years. She enjoys the building and tearing down of sets and also is interested in photography and the arts.
Donohue said she remained in Girl Scouts over the years because of the influence of troop leader Kathy Echler, who is stepping away from Scouting after nearly 22 years.
"I've known Kathy my whole life. Giving up on" Girl Scouts "seemed kind of stupid," Donohue said.
On hand for the "bridging ceremony" was Trish Elliott who has been in Girl Scouts 45 years since she was a girl.
Elliott felt this ceremony was "very special" because of her relationship with Kathy Echler who was her daughter's Brownie leader. Kathy Echler and Elliott have known each other and been involved with Scouting for more than two decades.
Elliott was proud of the three young women who have been in Scouts for the past 13 years because, she said, the program loses a lot of kids when they approach junior high. When the girls are in grades four and five, the peer pressure "is really tough on them," she said.
"We try to teach them independence," Elliot said. "Our tagline is girls of courage, confidence and character. That's what we try to instill in them, to have those qualities because those qualities are going to carry them a long way in life. When we can get them to believe those things, to have courage, confidence and character, it's going to carry them through a lot of rough times," Elliott said.
Also at the ceremony was Ross' grandmother Patricia Jacobson, who is a helping grandparent for Troop 65 and works with Kathy Echler.
Cheyanne Echler remained in Girl Scouts because of the friends she made, and the activities she enjoyed such as "hiking and camping," not just because her mom was a troop leader.
She is hoping to work in an auto body shop now that she has graduated from high school.
"Body work and painting is mostly what I do," she said. She has already worked on Shelby Cobra cars and GMC trucks. Her favorite car is a 1968 Corvette Stingray.
According to Kathy Echler, Donohue, Cheyanne Echler and Ross now have a lifetime membership in Girl Scouts having completed the "bridging ceremony" from Girl Scout Ambassador to Adult.
The troop leader said, "It makes me feel good" when she thinks about the three girls involved in Scouts for the past 13 years and it made her feel as if she "accomplished what she had started."
Kathy Echler became a Scout leader when her daughter, Tiffanie, wanted to become a Girl Scout more than 20 years ago and there were not enough adults involved to lead a troop.
Kathy Echler said the three girls really exhibited courage, confidence and character and added, "I just hope these girls continue on."