Satellite Rotary club donates wheelchairs
September 3, 2014 - 12:25 pm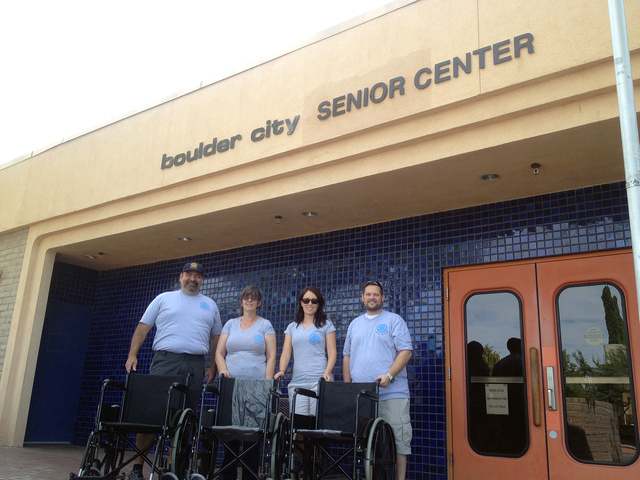 The Satellite club of the Rotary Club of Boulder City donated five wheelchairs to the Senior Center of Boulder City last weekend, addressing a critical need for some of the city's older residents.
According to Senior Center Director Tammy Copelan, wheelchairs are a difficult commodity to come by, and the center was desperate for more.
"We have the hardest time keeping wheelchairs," she said. "We have all types of medical equipment — walkers, canes and shower seats — but wheelchairs go fast."
Rotarian Larry Smith knew the demand for wheelchairs in Boulder City was growing, and that obtaining one can be quite costly, he said.
"There's a need (for wheelchairs). Medicare pays for wheelchairs, but they only pay 80 percent," he said. "And wheelchairs can be upwards between $600 and $800."
Copelan said the donated wheelchairs will be a primary source of transportation for those who borrow them from the center's medical equipment collection. Since wheelchairs are expensive, the senior center has a difficult time obtaining them. The supply just doesn't meet the demand.
"We don't get as many wheelchairs in because they're a higher dollar item," she said. "But the seniors are gonna benefit from this. And it's a blessing because we were really getting worried. We were getting desperate because we didn't even have one to give anyone."
Two wheelchairs were claimed shortly after being donated, and Copelan anticipates the other three will be gone by the end of the month. But Rotarian Joseph Roche said the Satellite club has the funds to purchase more if the senior center needs them.
"Just being able to have these wheelchairs is very important, and it will make a difference in their lives and in this community," Roche said. "Truly, it's making a difference, and we're grateful we were able to do that."
Smith said the Boulder City Satellite Rotary club plans to eventually build wheelchair ramps for those with difficulty getting into their homes. As a community with many older residents, Smith said the club knew how important wheelchairs were in Boulder City.
"Keeping people mobile is what keeps people alive," he said. "When these are gone we'll go back and buy some more. As long as there's a need and we have the money, we'll fill it."
Those interested in borrowing a wheelchair should contact the Boulder City Senior Center at 702-293-3320, Copelan said.
Contact reporter Steven Slivka at sslivka@bouldercityreview.com or at 702-586-9401. Follow @StevenSlivka on Twitter.