Santa brings smiles to St. Jude's Ranch
December 10, 2014 - 3:33 pm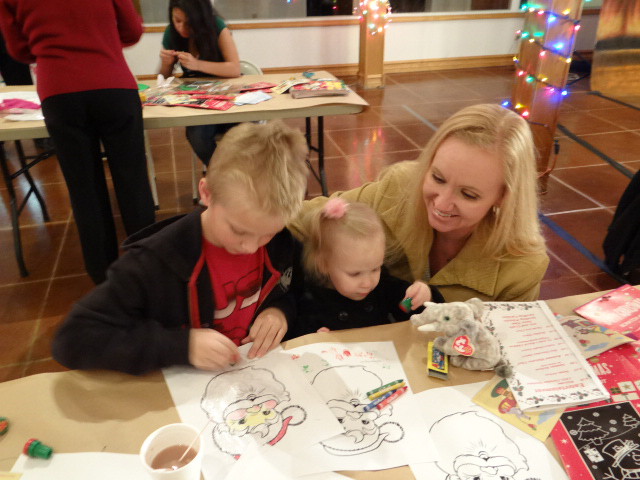 Katrina smiled and winked at him. Bobby's jaw dropped as he looked on in disbelief. Shanna reached out to touch him to make sure he was real.
They couldn't believe it. But it was true, he was really there visiting them.
Santa Claus made a special appearance Friday night at the 8th annual Night of Lights at St. Jude's Ranch for Children in Boulder City.
There was an abundance of lights, smiles and festivities for the children and young adults who live at the ranch to share with community visitors.
"Each year St. Jude's hosts the Night of Lights to give the public a chance to witness the work being done at the ranch and to show support for the precious children and young people who live here," said Christine Spadafor, the national CEO of St. Jude's Ranch for Children.
"For many of the children, this event is the first holiday experience they have had in their lives. It is the first time they have a Christmas tree, gifts under the tree, or a holiday dinner. It is a wonderful and magical evening to share with community that does so much for us all year."
It was the eighth consecutive year that the grounds at the Boulder City charity were decorated to host the event to benefit the children of St. Jude's Ranch for Children, who came to the ranch after having been abused, neglected and homeless. As many as 66 children and young adults live in 10 homes on the ranch.
The ranch, on U.S. Highway 93, was converted into a holiday wonderland featuring thousands of lights, dozens of Christmas trees, inflatable holiday figures, a polar bear slide, and a visit from Santa Claus.
"This is a wonderful holiday event to bring your own children," said Heather Lawson, a computers and math teacher at Garrett Junior High who spent a few hours enjoying the event with her daughter, Savannah, 2, and son, Carter, 8. "The kids did coloring, face painting and met Santa."
One highlight of the evening was Michael Jackson tribute performer Santana Jackson, who danced several of the late pop star's songs and was even joined on stage for three songs by the children in the audience.
Everyone stood in line to have their picture taken with Santa at the three-hour event before Santa had to go, jumping in his sleigh and promising to be back on Dec. 25.
"I've been checking to see who is naughty and nice, and there are so many nice kids at St. Jude's and in Boulder City and I'll be back again," Santa said, as he parted with a familiar phrase, "Ho, ho, ho … Merry Christmas, merry Christmas to all."
Note: The names of the children at St. Jude's have been changed in this story to protect their privacy.