Sands gets 'Romantic' look as new owners remodel motel
August 1, 2016 - 12:59 pm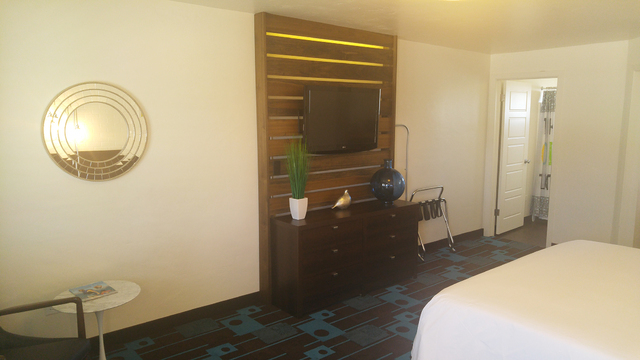 The Sands Motel has been a Boulder City staple since 1951, and after half a century of wear, the motel has new owners who are pouring their hearts into making an old favorite fresh again.
In December 2015, Jennifer and David Romantic were able to complete the purchase of the Sands and during the past six months they have renovated much of the property, including the lobby and 22 of the 26 rooms.
"We've redone some of the outside; we've redesigned the landscaping and we're improving the outdoor areas," she said. "Each room will have a little deck with some patio furniture and we're going to put in a large deck around the barbecue area as well. We've found people really like to be able to relax outside, especially in the winter.
"In the rooms we've gone with a midcentury modern design, which is what we really love," Jennifer Romantic said. "My husband does a lot of woodwork and has installed indirect lighting as well as some very cool decor."
Jennifer Romantic moved to Boulder City from Sacramento in 2002 with her husband, whom she had met in Phoenix when the two were in college.
They wanted a place that was more centrally located to most of their family in Southern California, as well as Arizona, according to Jennifer Romantic, and they chose the city that built Hoover Dam because it seemed like the right place to raise a family.
"We had family that lived here, my great aunt and uncle, so I had visited before," she said. "It's always been such a wonderful town, with so much character."
Jennifer Romantic has worked in the hotel industry for much of her adult life, primarily for Hilton and Marriott properties, and the idea of buying their own property has been something she and her husband have considered for a long time. After moving to Boulder City, they soon decided they were in the perfect place.
"There are tons of travelers, and especially Europeans, who come for the dam and Lake Mead," she said. "People have been taking risks and investing their money and it's a really exciting place to be right now."
The redevelopment of some of the other hotels in the downtown area and the fostering of the new restaurants and businesses has made it an optimal location, according to Jennifer Romantic, and they began eyeing the Sands Motel on Nevada Way over five years ago.
"We've done a lot of remodeling before this and eventually we knew we wanted to have our own motel," Jennifer Romantic said. "This is a really unique building; it has old plaster walls, which we've kept, and it's built really well. It has very good bones."
The Romantics have also focused on providing a more upscale atmosphere, with upgraded bedding and high-end amenities like Wi-Fi, refrigerators and Keurig coffee makers in each room.
The bathrooms feature hair and skin care products from William Roam, an environmentally friendly, woman-owned company with products carried in high-end hotels and resorts. According to Jennifer Romantic, people really adore the products, which are like a private spa experience.
Several recent reviews on TripAdvisor have praised the room's new look, as well as the hospitality offered by the Romantics and their staff.
"My wife and I just recently stayed in one of the recently renovated rooms and we were both very impressed. Tastefully decorated, super clean and very comfortable. The staff and owners are some of the nicest people and this will be our go-to place when we travel here for boating," wrote a Washington resident about his stay in June.
Romantic did acknowledge that people are getting worried about the upcoming bypass directing traffic away from downtown, but that's not how people find hotels anymore, she said.
According to Jennifer Romantic, people don't drive down the highway looking for a place to stay; they find them online before hand. That's why their focus is on their online presence and providing the best experience possible.
"People tend to have low expectations for a drive-up motel," she said. "We want to blow them away."
For more information, call 702-293-2589 or visit http://motelbouldercity.com/
Contact reporter Hunter Terry at hterry@boulder
cityreview.com or call 702-586-6711. Follow him on Twitter @HunterBCReview