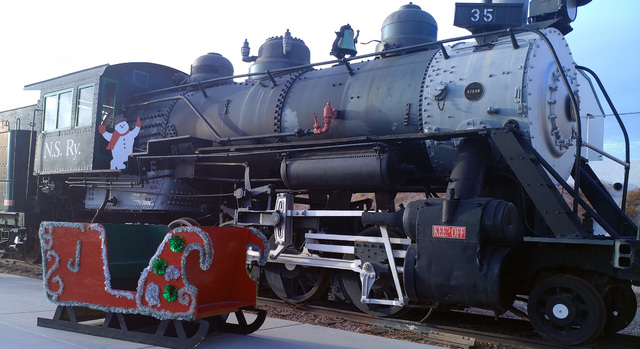 Christmas is just around the corner, and luckily for local residents, Boulder City is the only place in Southern Nevada where families can experience their own version of "The Polar Express."
The Southern Nevada Railway Museum will be hosting two events this holiday season: the 15th annual Santa Train and a nighttime pajama train.
The Santa Train makes five trips a day, every hour on the hour from 10 a.m. to 3 p.m., Saturday and Sunday, including Dec. 17 and 18.
The enclosed and open-air cars are adorned with holiday decorations. Families not only will get to ride with Santa Claus on a 7-mile trip that lasts about 40 minutes down to Railroad Pass and back, but they also will have the opportunity to take a ride on the Eureka, an historic steam locomotive.
During the day, there will be a mailbox for children to use to send letters to Santa and a variety of classic rail cars to be explored.
This also is the only time of year that the museum's workshop is open to the public. Inside the shop visitors can view some of the work being done on rail equipment and visit the Model Railroad Expo, where there will be intricate tracks set up as well as a swap meet and crafts.
"December is our busiest month of the year," said Randy Hees, director of the Nevada State Railroad Museum. "With the cool weather and amazing scenic views, it's a great way for families to enjoy the season on the original railroad that was used to build Boulder City as well as the dam."
Tickets for the Santa train cost $6 and are for open seating.
The Pajama Train is a nighttime affair and will feature a visit from Santa Claus and storytelling as well as hot chocolate and cookies.
While tickets only will be sold for the enclosed, heated cars, passengers will be able to walk around and explore the open-air cars as well, which, according to Hees, offer magical views while riding over the hills during the dark evening trips.
The Pajama Train will make two runs per night, at 6 and 8 p.m. Friday as well Dec. 15, 16, 21, 22 and 23. While pajamas are not required, they are definitely recommended.
The Pajama Train is hosted by the Friends of the Nevada Railway Society and serves as the group's main fundraiser for the year. Each trip lasts about 1 hour and 20 minutes, and ticket packages are available at $20, $25 and $30 with reserved seating and include hot chocolate and cookies.
Tickets for both events can be purchased at http://www.nevadasouthern.com/.
For more information, visit https://www.facebook.com/FriendsOfNevadaSouthernRailway/.
Contact reporter Hunter Terry at hterry@ bouldercityreview.com or call 702-586-6711. Follow him on Twitter @HunterBCReview