Pirate Party planned at pool
October 31, 2018 - 3:13 pm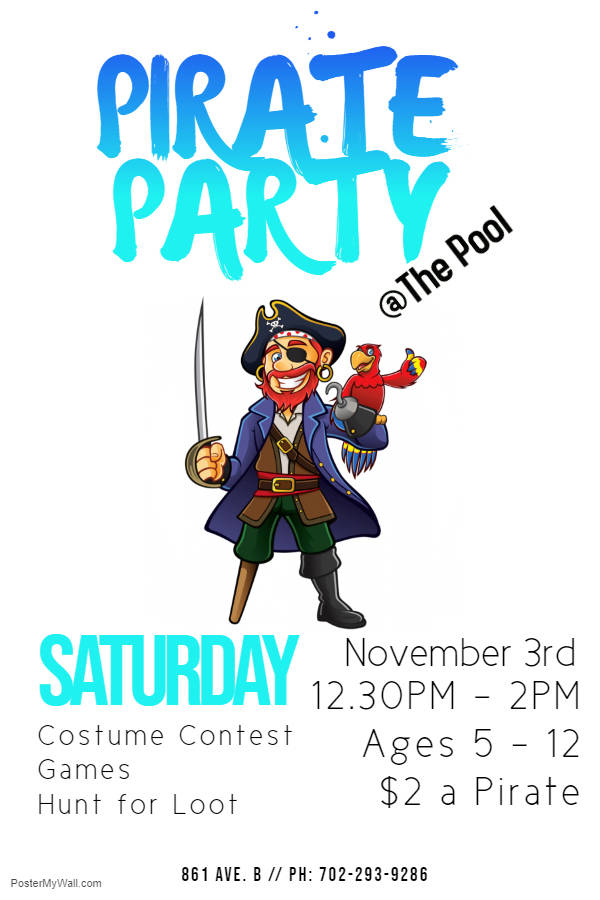 Pirates will be invading Boulder City on Saturday — and local officials will be welcoming them to the municipal pool.
The Parks and Recreation Department will be hosting its inaugural Pirate Party from 12:30-2 p.m. Saturday, Nov. 3.
"Even though we had to 'batten down the hatches' — put up the bubble over the pool — we 'arrrgh' looking forward to a fun time," said Cheree Brennan, aquatic coordinator. "I hope this is fun for the kids while helping them get some exercise."
Brennan, who became aquatic coordinator earlier in the year, said she created the fall event to be a counterpart to the Easter plunge in the spring.
"I came across a bin marked pirate things and thought we could do a pirate party," she said.
Saturday's Pirate Party, for children 5-12, includes a costume contest, cannonball toss with water balloons and treasure hunt.
Brennan also wanted to hold the event to create more community engagement at the pool.
"I'd like to create a few more opportunities for kids to have fun and do a different type of exercise," she said.
Admission is $2 per person.
The Boulder City Pool and Racquetball Complex at Broadbent Park, 861 Avenue B, is open from 6 a.m. to 8 p.m. Monday through Thursday, 6-10 a.m. and 2-8 p.m. Friday and from 7:30 a.m. to 2 p.m. Saturday.
For information on adult lap and open swim times, contact the pool at 702-293-9286 or visit www.bcnv.org/242/Pool-Racquetball-Complex.
Contact reporter Celia Shortt Goodyear at cgoodyear@bouldercityreview.com or at 702-586-9401. Follow her on Twitter @csgoodyear.
If you go:
What: Pirate Party
Where: Boulder City Pool, 861 Avenue B.
When: 12:30-2 p.m. Saturday, Nov. 3
Who: Children ages 5 to 12.
Cost: $2.