Passionate pursuits: Metzger makes time to enjoy her favorite activities
November 18, 2015 - 4:00 pm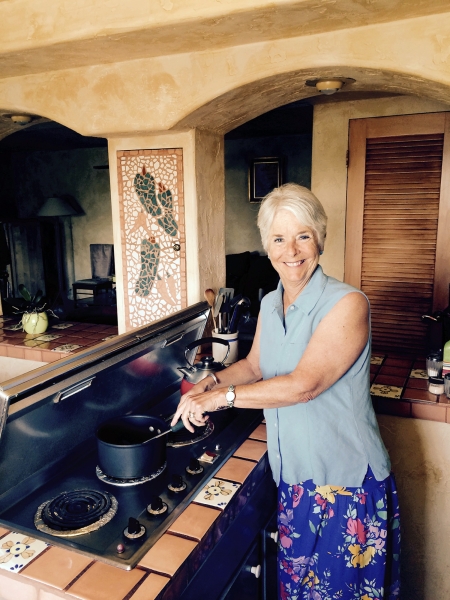 Merrianne Metzger has a lot of pots on the fire at once.
Whether she is cooking for her husband, Tony Baby, finishing her next novel (she's published two), or cooking up a fiesta meal for her friends, Metzger doesn't slow down.
As one of the founding members of a horsewomen's group in her native Oregon, she travels back there every summer to spend time camping and cooking with lifelong friends.
"I introduced Tony to horseback riding and now he's hooked," Metzger said.
Their home's decor reflects a Mexican influence and highlights the colors of the Southwest. Interspersed are a few horse items, including bridles, ropes and a saddle.
"I was born in Covina, Calif., but early on we moved to Bandon, Ore., where I learned to cook on our dairy farm, making food for the people who harvested the hay. If they didn't like something, you knew it right away. I was the youngest of three daughters so I got to do all of the things the others didn't want to do," Metzger said.
Horse crazy
"Being a horse-crazy girl didn't help matters either.
"My mom was an unconventional cook and so I learned how to make a lot of things in between spending time with horses. Her Christmas Eve enchiladas were amazing and people raved about them," Metzger said.
After high school Metzger began to pursue another passion of hers: education. She received a bachelor's degree in elementary education, a master's degree in extreme learning problems and went on to complete a Ph.D. in educational psychology. She taught elementary school in Salem and French Glen, Ore., eventually moving up to teach at the college level as she moved around Oregon.
Then she changed careers and became director of day treatment at the Seattle Children's Home, a facility for emotionally disturbed children, before she decided she was "burned out."
She took a year off and went to the University of Washington to provide a data base from her days at the day treatment facility. They tried to hire her as a faculty member and she said "no."
By that time, she was married to Baby and began interpretive writing for museums.
"My Ph.D. is in helping people learn; that's my specialty, so I was a terrific label writer and I could put together the inside of the museum. If you go to Great Falls, Mont., that's one of mine. The new part, not the old," Metzger said.
She worked in several places, including Alaska, and helped write the creation story for those museums. She spent time in a resort in Sun River, Ore., where she met a woman, Teresa Bower, who taught Mandarin and Cantonese cooking.
"My other friend whom I met there, Barbara Wortley, was a world traveler and taught me a lot as well.
Cooking for groups
"After Tony left the (Smithsonian National) Air and Space Museum he … moved out to his own business of designing and building museums," Metzger said.
"One of Tony's clients was Nintendo and they had all of these kids working a long way from home and most of them in their 20s. Almost none of which knew how to cook. They loved to come to our house for dinners and I started cooking for these big groups," she said.
"Tony was asked to come to Boulder City for a museum conference and we went everywhere in that little plane of his. So they put us up at the Railroad Pass hotel and casino and we did the usual things like the Hoover Dam tour and the other stuff. We flew to Ojai and got my mom and brought her along. She said, 'You know when I was a kid my parents brought us here to see Hoover Dam.'
"Tony asked if she wanted to drive around and during the course of looking around I spotted this house and there was a paper out front, and long story short we sold the house on the lake moved to my little house in Bend and bought this one. We've been living the dual lifestyle ever since. We summer in Bend where we have our home and our horses out on the hayfield, and we winter here where we bike and do yoga and I write," Metzger said. "When we are in Oregon we horse camp with a group of friends calling ourselves the Ochoco Outlaws and have our own cookbook."
She said she has happily retired from all of her careers and has become a novelist. She is working on her third book. The first two are "The Lord's Bit," which offers a lesson in humanity, and the second is "Grit's to Granola," a wonderful trip down memory lane for those of us who started out humbly and never forgot our roots.
Her next adventure is a trip to Honduras for her 70th birthday and to try out her new SCUBA certification.
— Contact Andy Saylor at andyhali@msn.com.
A fall fiesta
This meal is filling, so my advice is to go light on the hors d'oeuvres — chips and pico de gallo to go with the World Best Margarita, perhaps. Folliw this by chicken enchiladas with a side of refried beans and a green salad. If you have room for dessert, we have just the mousse.
Pico de Gallo
1½ cups tomatoes, minced
¼ cup green onions, chopped
2 tablespoons lime juice
2 tablespoons cilantro, finely chopped
1 tablespoon jalapeno pepper, finely chopped, or a dash of hot sauce
Salt and pepper to taste
Note: Sometimes when using as an hors d'oeuvre, I add a dice avocado. Did you know wrapping a ripe avocado in foil and refrigerating it will keep it from ripening further? It will stay usable for quite a long time.
World's Best Margarita
In a pint-sized Mason jar drop:
½ each lemon and lime, quartered
Mash with a muddler stick or wooden spoon until well smashed.
Fill the jar witih ice, crushed perferably.
Add a jigger of smooth tequila.
Add 1 ounce Cointreau or other orange liquor.
Screw lid on jar and shake it hard, about 50 shakes.
Take off lid and top with Spring or simple syrup and soda water.
Put lid back on and shake 3 or 4 more times.
Serve in the Mason jar with an oversized straw.
Note: I sometimes use oranges instead of lemons. I use pine jars with handles and affix a different wine stem bangle to each handle.
Chicken Enchiladas
8 boneless chicken breasts
1 can cream of chicken soup
2 cups sour cream
¼ teaspoon garlic powder
1 teaspoon seasoned salt (Lawry's is good)
1 large can diced green chilies
2½ cups Monterey Jack cheese, grated (reserve ½ cup for topping)
¾ cup onion, chopped
12 flour tortillas
1 cup salsa
Boil chicken breasts for 8-10 minutes. Cool and shred.
Combine chicken with onion, sour cream, soup, cheese, garlic powder and seasoned salt.
Fill tortillas with mixture, roll and place seam side down in a baking pan.
Pour salsa over top of enchiladas; sprinkle with cheese.
Bake at 350 degrees for 30-plus minutes. Cover if getting crispy.
Serve with extra salsa and sour cream.
Beans Refrito Especial
1 can refried pinto beans
1 can whole black beans, drained
¼ cup salsa or pico de gallo
½ cup shredded cheese
¼ cup sour cream
Stir together and heat in kettle until cheese is melted. Cover and keep warm over very low heat until ready to serve.
Ensalada Verde con Naranjo
Dressing:
3 tablespoons lemon juice
2 tablespoons honey
4 teaspoons soy sauce
½ teaspoon grated ginger
1 small clove garlic, minced
1 pinch white pepper
½ cup light oil
Salad:
1 large head romaine lettuce, or two small heads
1 large orange, peeled and chopped
¼ cup sunflower seeds or pine nuts
¼ cup cilantro, chopped
Note: I try to make my dressing ahead of time
Katie's Mousse de Margarita
1 packet gelatin
1 cup sugar, separated into two ½ cup portions
Pinch of salt
4 eggs separated
5 tablespoons lime juice
Peel of one lime, finely grated
½ cup white tequila
¼ cup Cointreau or triple sec
In a sauce pan mix ½ cup sugar, 1 pack of gelatin and a pinch of salt.
Whisk egg yolks together. Add lime juice and pour over gelatin mixture.
On a low heat, stir until sugar is dissolved, about 5 minutes. Remove from heat, let cool, and add liquors and grated peel of one lime.
Refrigerate for at least 30 minutes.
Beat egg whites with ½ cup of sugar until small peaks form. Fold into refrigerated mixture and pour into small cups. Garnish with a lime twist, Put in fridge to set.
Note: Cupcake tins and liners work well.