August 6, 2014 - 12:47 pm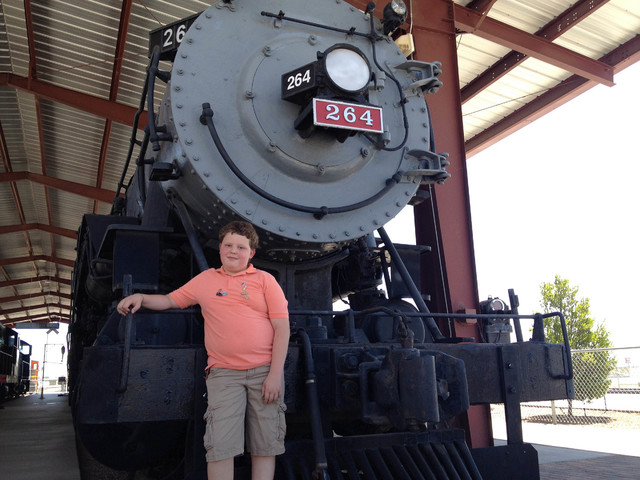 To say that Haydn Haycocks loves trains is an understatement, a description that fails to dig deep to the core of the obsession the young artist and train aficionado has gained since he was a kid.
Haydn's infatuation with trains has made him a regular at the Nevada State Railroad Museum in Boulder City, and he recently made history when his oil painting of Union Pacific Railroad Engine 6082 was the first to be displayed inside at the museum.
The painting, titled "Crossing Railroad Pass," shows Union Pacific Engine 6082 crossing Railroad Pass from U.S. Highway 93, along with "1931-1961," its years of operation at the top.
Haydn, 13, who lives in Summerlin, was diagnosed with Asperger's syndrome as a 3-year-old. He's now an eighth-grader at the New Horizons Learning Center, where he's learned to hone his skills as an artist and as a historian.
"He's one of our more prolific artists. He loves railroads, and he's meshed his enthusiasm for railroads with his enthusiasm for art," said Barbara Bidell, educational director at New Horizons. "He can talk about anything, but especially trains and the history of trains."
Museum Director Greg Corbin stood in awe as the young teenager rattled off facts about the history of Boulder City railroads. People with Asperger's syndrome, which the Mayo Clinic classifies as an autistic spectrum disorder, have problems developing social skills, but gain a strong interest in a certain subject.
For Haydn, it's trains and railroads. Corbin saw the extent of his knowledge as Haydn broke down the history of U.S. Highway 93, as well as the Union Pacific train schedule from Henderson to Boulder City.
Haydn's mother, Kristin Haycocks, said she first noticed her son's love for trains when he was a toddler, and the love only grew stronger as he got older. Whenever Haydn would join his mother and father, Ian Haycocks, on trips to visit family in Illinois, he would always look forward to watching the trains.
"When we would go by crossings, it was just a big deal. He just wanted to see them," she said.
Haydn usually visits the Nevada State Railroad Museum once a month, but after five minutes of hearing him didactically speak about the history of Union Pacific Railroad like a college professor, one could easily assume he lived at the museum.
"I feel like trains are really educational," he said. "I'm crazy about trains."
When he's not drawing or painting trains, Haydn can most likely be found scouring UNLV's special collections for any new information or pictures about his favorite subject.
"I don't even know how he knew that," Corbin said after Haydn enlightened him on the effect railroads had in Boulder City after the Boulder Canyon Act was signed in 1928.
With Haydn's condition, social skills are difficult to develop, so he focuses on his art and, more importantly, the trains where he's drawn so much of his inspiration, according to his mother.
Haydn already has two paintings on display at St. Rose Dominican Hospital's de Lima campus in Henderson, so he's no stranger to having his art readily available for the public to relish.
And even though "Crossing Railroad Pass" is the first oil painting to be displayed in the museum's 13-year history, Haydn remains humble and is hopeful that his art will provide museum-goers with information they might not have known before.
Contact reporter Steven Slivka at sslivka@bouldercityreview.com or at 702-586-9401. Follow @StevenSlivka on Twitter.