Nurse practitioner takes personal approach to care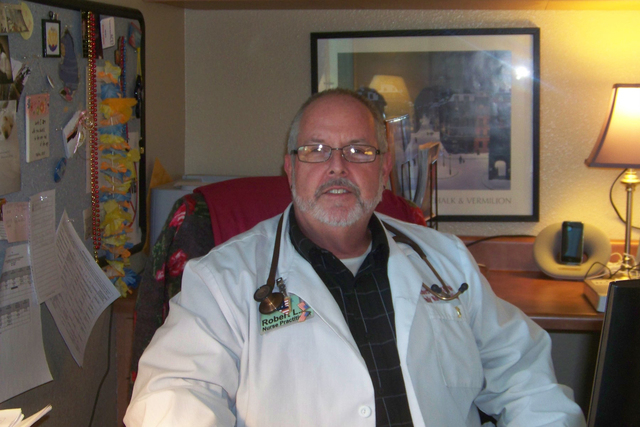 Robert J. Lynn, a family nurse practitioner, is the newest medical professional to join the Boulder City Mental Health Clinic, with owner/founder psychologist Brent Dennis, Ph.D., and Ron Cummings, a licensed substance abuse and marriage and family therapy counselor.
Lynn also works as nurse practitioner at the Nevada State Veterans Nursing Home, where he has practiced for nearly nine years, and operates his own business, Freedom Family Medical Services. Lynn said he enjoys all of his work "to no end."
Lynn provides in-home medical services to people of all ages, is qualified and trained in providing primary care services to patients for the management of acute and chronic medical conditions and has had clinical preparation in advanced pharmacology to prescribe medications.
Also, Lynn is a Medicare-certified psychiatric home health nurse, a growth hormone specialist and a certified American Medical Association instructor for "education of physicians in end-of-life care." His specialties are endocrinology, diabetes management, mental health and substance abuse.
While Lynn has been a nurse practitioner for the past 14 years, his career began differently. He was a lineman for Southern California Edison and put himself through college as a professional baseball and softball umpire.
Lynn's interest in nursing manifested during his high school years when he was living in a foster home. He would watch his foster mother, a volunteer nurse, as she studied. He said the subject matter fascinated him.
It would take Lynn until 1990, 20 years into his worklife, to follow his passion and stop working at what he called unfulfilling jobs.
Until July 2013, nurse practitioners were required to practice under the supervision of a physician. Today, 14 states, including Nevada, allow nurse practitioners to work independently.
Lynn said he is quite clear in letting patients know he is not a physician and would never portray himself as one. Although he may not have the same amount of formal training of a physician, as a nurse practitioner Lynn offers patients a personal touch, "holding the patient's hand … listening to them" and going into their homes.
He said he explains patients' physical conditions in terms they easily understand and will even draw pictures for them so they can better understand their ailments and why they're using certain medications.
Lynn said he believes that too often patients feel displaced from their treatment. So he works to engage all patients so they feel part of the decision-making.
While not a patient, Angela Smith has worked with Lynn for several years.
"I'm not embarrassed to talk to him about personal issues related to my physical ailments," she said, adding he was "very open and easy" when talking to him about her medical issues. "I'm not just a number to him. He cares about my physical well-being."
Lynn said he wants to get to know the patients he treats. It is important to know what patients are like with and without prescription medications.
Sometimes Lynn will safely take a patient off medications, decrease dosages and begin different medications at low dosages. His philosophy about medication is "less is more."
Lynn said he talks to patients about what prescription is or isn't working for them and considers a patient's culture, age, sex and other factors when prescribing medications.
Although he treats patients of all ages, the majority of Lynn's patients are elderly.
"The majority of problems come in the elderly," Lynn said. "If you don't take time to listen to the patient at any age, I just don't like that. I think it's very arrogant."
Lynn said he feels the caring inherent in nursing is part and parcel of a nurse practitioner's work.
Lynn is the only on-staff nurse practitioner at the Nevada State Veterans Home, where he provides primary care to 174 residents and created the home's hospice program.
Boulder City Mental Health Clinic office manager Sue Berg said Lynn is very important not only to the clinic but to the community because he is qualified "to prescribe psychotropic medications for patients," bringing with him two decades of "specialization in the field of behavioral and mental health."
Appointments with Lynn can be made by calling the Boulder City Mental Health Clinic at 702-293-5945.