Norris wins Chautauqua poster contest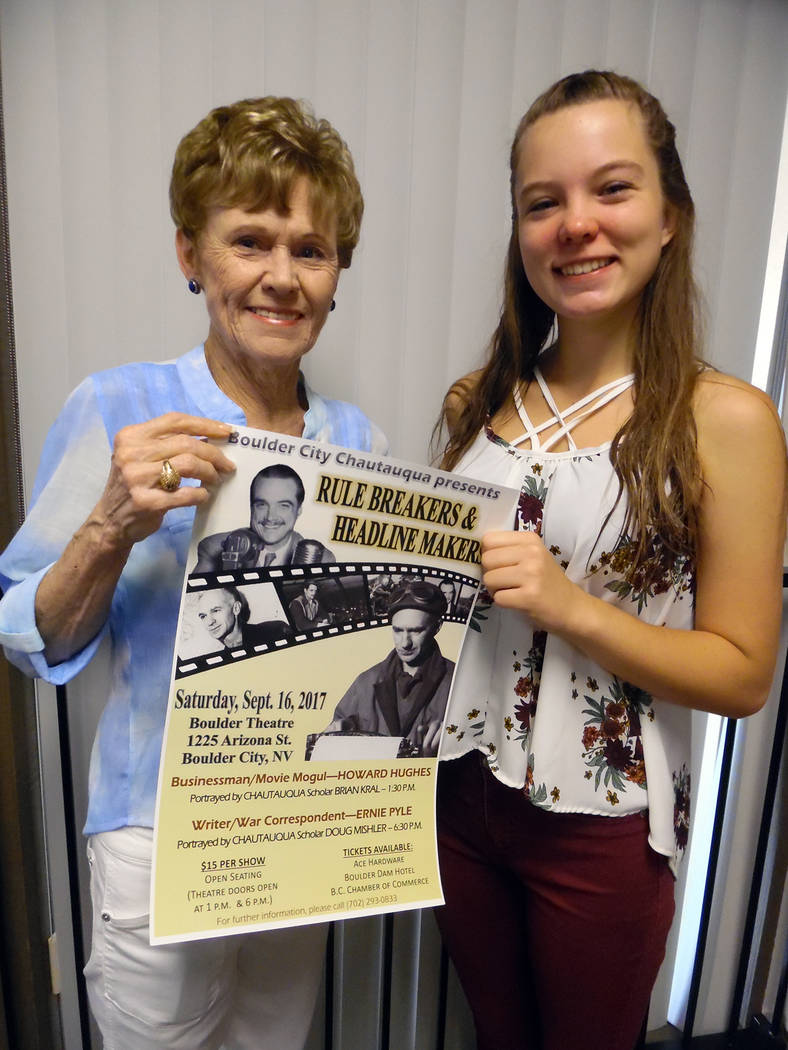 Boulder City Chautauqua is bringing "Rule Breakers & Headline Makers" to town next month as part of its educational theatrical presentations.
To help tell their story, they sponsored a poster contest for art students at Boulder City High School.
Recent graduate Lauryn Norris, then a senior in the now-defunct art program, won the contest and was presented with a $75 cash prize. Her design incorporated photos of the two icons being portrayed, Howard Hughes and Ernie Pyle, and tied their appearance together with a piece of film featuring pictures of the two men.
"Once I found out the names (of the people being portrayed in the presentation), I researched them and found out that one was a journalist and one was a director of films. That gave me the idea of using the film," she said.
The winning design was one of two she turned in for the contest.
Norris said she really liked the winning one better because of the transition between the two men with the piece of film in the background.
Laura McCubbin, the school's former art teacher, had her Advanced Placement art students create entries for the contest, Norris said.
Bev Mazza, a longtime member of the Chautauqua organizing committee, said they approached the art department at Boulder City High School because it allowed them to get students involved and returned to the group's practice of sponsoring a contest for their posters.
Chautauqua scholar Brian Kral will perform as Howard Hughes and Doug Mishler will portray Ernie Pyle. Both men have performed at previous Boulder City Chautauqua presentations, and Mishler presented both programs last year, appearing as P.T. Barnum and Jack Warner.
"We're very excited about it," Mazza said of the scholar's return.
Also returning is former master of ceremonies, Michael Green, an associate professor of history at UNLV.
The Chautauqua performances are scheduled for 1:30 and 6:30 p.m. Sept. 16 at the Boulder Theatre.
Tickets are $15 per performance and can be purchased by sending a check, payable to Boulder City Chautauqua, to P.O. Box 61994, Boulder City, NV 89006, or at Ace Hardware, 541 Nevada Way; Boulder Dam Hotel, 1305 Arizona St.; and Boulder City Chamber of Commerce, 465 Nevada Way.
For more information, visit http://www.bcchautauqua.org.
Hali Bernstein Saylor is editor of the Boulder City Review. She can be reached at hsaylor@bouldercityreview.com or at 702-586-9523. Follow @HalisComment on Twitter.
■ What: Boulder City Chautauqua presents "Rule Breakers & Headline Makers"
■ When: 1:30 and 6:30 p.m. Sept. 16
■ Where: Boulder Theatre, 1225 Arizona St.
■ Cost: $15 per performance
■ Info: http://www.bcchautauqua.org