Motorcycle memories: Veteran provides special ride for 96-year-old woman
February 14, 2018 - 4:52 pm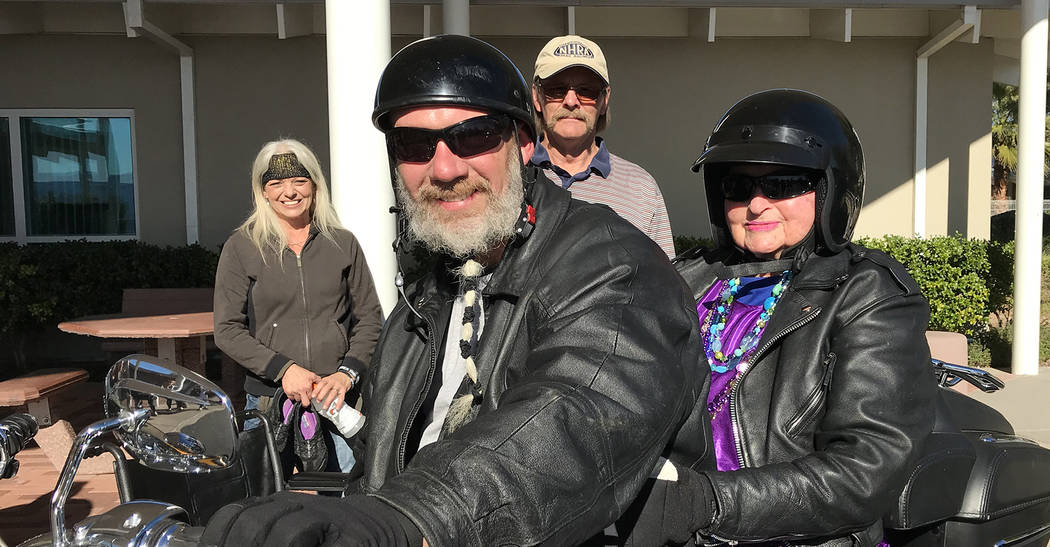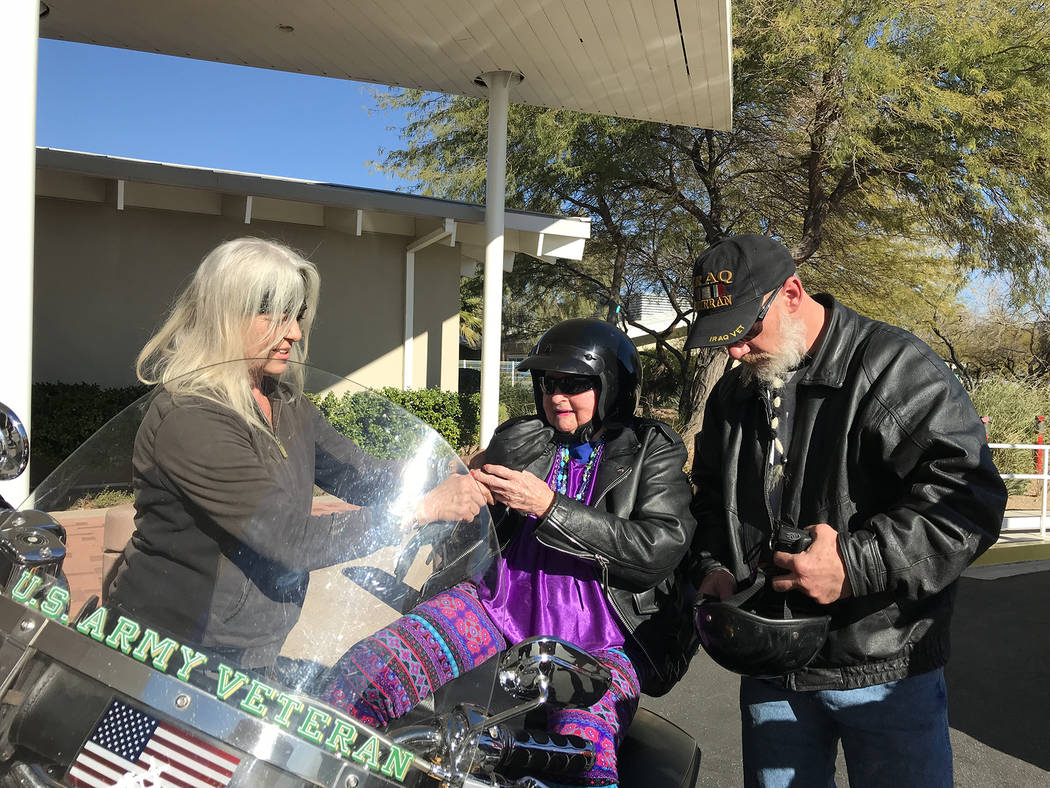 With an enthusiastic "woo hoo" that belied her age, Virginia Mahaney set off on a motorcycle ride that she hopes is just the first of many adventures that will create memories to last the rest of her life.
"I gotta squeeze it all in. This is just the beginning," said the 96-year-old Mahaney, a resident of the Nevada State Veterans Home in Boulder City.
Mahaney, who will turn 97 in May, said she and her late husband purchased an Indian motorcycle in the mid-1940s and rode regularly until around 2000 when they had to give it up.
She said she wanted to go on one last ride. "I love the freedom and wind in my hair. The excitement of it. I just love it," she said about being on the back of a motorcycle.
Rick Hillis, founder of One Hero at a Time and an Iraq War veteran, happily volunteered to take Mahaney for a ride. His organization sponsors events, usually one or two a year, that directly aid a local veteran and their family.
Granting Mahaney's wish was something he couldn't turn down.
As many staff members gathered outside the veterans home on Feb. 8, Hillis and his fiancee, Patty Ashworth, prepared Mahaney for her ride. They outfitted her in a leather jacket, gloves, sunglasses and helmet to ensure her safety. Ashworth even took the boots off her feet for Mahaney to borrow for the ride.
As they did, Mahaney's smile grew bigger and she could barely contain her excitement.
When the moment came and Hillis fired up his Harley-Davidson, Mahaney was giddy.
Off they went, oblivious to her escort as her son and daughter-in-law, Michael and Becky Mahaney, followed close behind accompanied by one of the home's nurses.
For those few minutes, she was able to forget her age or the fact that she has to use a wheelchair to get around.
Mahaney, who shows no signs of slowing down, said she has a bucket list of adventures she would like to go on before she dies. Among them, skydiving.
She used to water ski and would happily get on a pair of skis again — as long as her caretakers at the veterans home agree.
"Why not?" said home Administrator Linda Gellinger, who was equally excited about Mahaney's motorcycle adventure. As long as she's able and ready, staff will be too.
Hali Bernstein Saylor is editor of the Boulder City Review. She can be reached at hsaylor@bouldercityreview.com or at 702-586-9523. Follow @HalisComment on Twitter.