'Monsters' take over cardboard boat race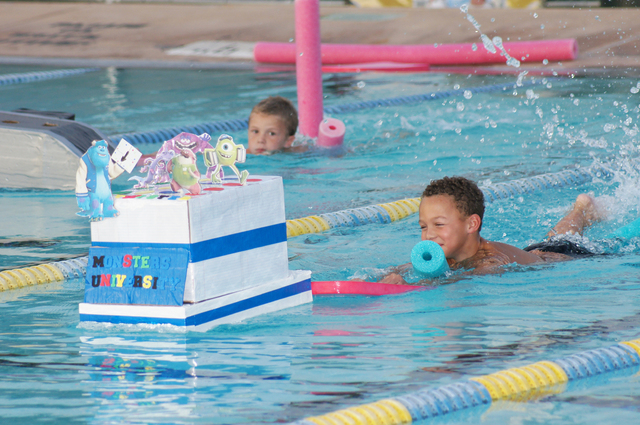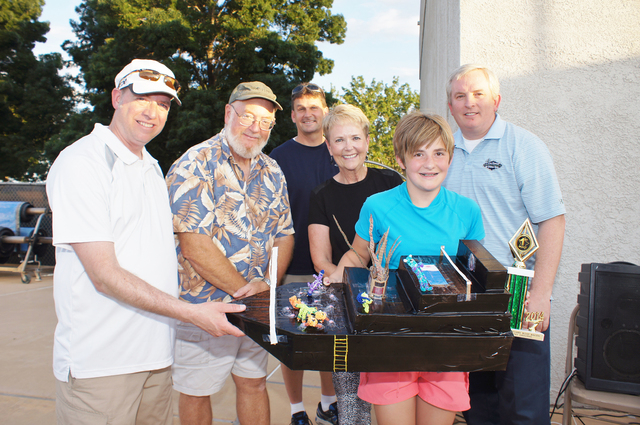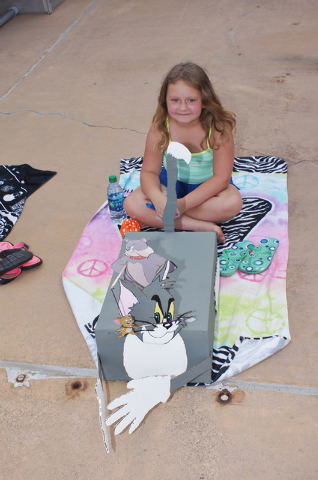 Cardboard boats, held together with nothing but paint and glue, sailed their way across the Boulder City municipal pool last week for the 14th annual cardboard boat races. Most of the 30 boats made it all the way across the pool.
Ironically, a replica of the Titanic made by Rylee Lappen won the annual "surprise" Titanic award for the boat that sinks the fastest.
The theme of this year's race was "Monsters University." Entries did not have to reflect the theme, but it gave the children a place to start, said Bobbe Wilson, aquatic administrative clerk and certified pool operator, who helped coordinate the boat race.
To qualify to race, the boats had to be made of cardboard, paint and glue and contain no artificial flotation devices or waterproofing, she said.
Open to children, competition was divided into several age categories, with the first- and second-place winners of each heat in each division winning a prize, Wilson said.
"They all had a good time," she said. "The didn't need to be the fastest or have the prettiest boat to win."
The children competed in the 6 and younger, 7- and 8-year-olds, 9- and 10-year-olds, and 11- and 12-year-olds divisions. While there were divisions for 13- and 14-year-olds and those 15 and older, Wilson said there were no older competitors this year.
Powered by their creators, the boats made their way across the pool as the children sat on pool noodles and pushed the boats with a kickboard. That prevented anyone from helping keep their entry afloat, Wilson said.
Special awards also were presented for the funniest, most historic and most original entries.
Winners were:
Funniest: Tom and Jerry by Ashlyn Lappen, first place; Monsters University Twister by LeAndre Daniels, second place; and Crazy Mike by Michael Mote, third place.
Most historic: Titanic by Rylee Lappen, first place; Noah's Ark by Caleb Walker, second place; and USS Skipping Stone by Kayden Jennings, third place.
Most original: SS Scare Games by Anna Cauble, first place; Monsters University Swim Surfing School by Hannah Angel, second place; and USS Jeter by Bruce Woodbury, third place.
The Mayor's Award for the most noteworthy entry was awarded to Phoebe McClaren for her monster pig.
In addition to the trophies, all of the participants were given goody bags and a ticket for the prize drawing. Wilson said there were enough prizes this year for each child to receive a prize.
A highlight of the evening event pitted the pool's lifeguard staff against Councilman Rod Woodbury and City Manager Dave Fraser. According to Wilson, they were not prepared to swim, but joined the festive spirit of the races and jumped in the pool in their street clothes.
Sponsors helped underwrite the cost of the annual race. They were: Boulder City Parks and Recreation Department, Boulder City Pool, Boulder City Sunrise Rotary, Boulder Dam Credit Union, BC Realty, Southwest Diner, Wellness 2000, Ace Hardware, Home Hardware and Variety, Dairy Queen and Boulder Bowl.