Methodist pastor works within community of all faiths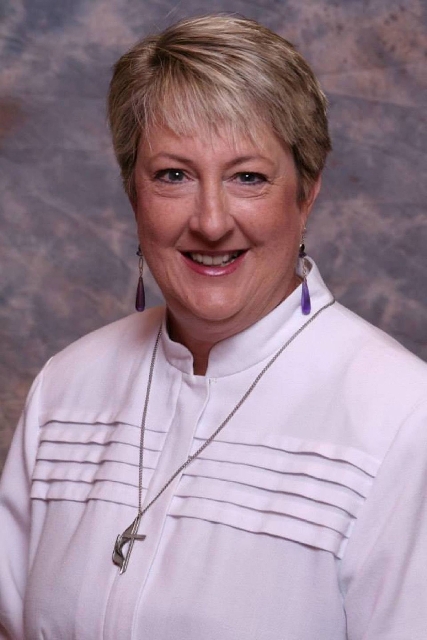 When Sandy Stratton Johnson took over the leadership of the Boulder City United Methodist Church last year, one of her biggest challenges was to grow the church.
It hasn't been easy.
She admits some people left the Boulder City church because they didn't like her "more liberal leanings" than the previous part-time pastor.
Yet she believes the congregation has become "excited and enthused about growing" to 100 members when they can be officially chartered by their denomination to build a church.
In the past year, the Boulder City church has gained 18 members and their roster now consists of 80 members.
"Are we making a difference in Boulder City?" Johnson asked.
Johnson has immersed herself in Boulder City activities and is working with the Episcopal Church to develop a joint youth program. She is hoping to "get the kids in service in our community."
She and members of her congregation spent four nights cooking for the families of Family Promise at Grace Community Church in May; they worked with the Boulder City chapter of Nevadans for the Common Good in helping pass legislation against sex-trafficking; and, most recently, they organized a dunk tank at the Damboree to benefit Lend A Hand.
The pastor admits she loves challenges and working with day-to-day issues because "people need guidance."
Johnson invites the community to the Sunday service at 10 a.m. at the Senior Center of Boulder City for "good solid worship" and perhaps a few exciting detours along the way.
Johnson traveled a long and varied road to get to the position in which she serves today.
Her official title is "student local pastor," but in June, the "student" earned a Master of Divinity from Iliff School of Theology in Denver.
Johnson was born in Eugene, Ore., earned a bachelor's degree in sociology from Oregon State University in 1983 and began working as a night child care worker at Rosemont Inc. in Portland in 1984.
She and her husband John "JJ" Johnson were married in 1987 and relocated in 1988 to the Las Vegas area where Sandy Johnson continued her work with emotionally disturbed youngsters until 1994.
Then the future minister began working for Mary Kay Cosmetics, turning what she thought was going to be a part-time-so-she-could-stay-at-home-with-the-kids-job into a lucrative position that earned her the use of two free cars from the company.
She said although she didn't know it at the time, she was "being perfectly prepared for a pastor position" while working with Mary Kay.
"People want to know that they are important. When you share with them, whether it's selling lipstick or selling Jesus," you are adding "value to their life," Johnson remarked.
It was 1999 when Johnson truly felt a calling to the ministry. She left the cosmetics business and applied to Claremont School of Theology that year, but her road to the ministry wasn't going to be straightforward.
There was a divorce and a move into the event, planning and production business with Encore Productions, and later a six-figure-a-year career with Global Experience Specialists as an account executive selling custom trade show exhibits.
On the road to her ministry, Sandy Johnson was always active in United Methodist Church activities.
Her work involved, among other church and community activities, serving as a Bible study leader, a youth coordinator, women's ministry leader and facilitator and leader for women's retreats.
In the fall of 2010, Sandy Johnson enrolled in the master of divinity program, worked full time and completed her degree in three years.
In July of 2012, the Boulder City church was in need of a full-time pastor. Sandy Johnson was certified and appointed to the position after she completed the requisite testing and psychological evaluation by the District Committee on Ministry of the United Methodist Church.
The appointment was, according to her, "an answer to prayer." She had been on the road to the ministry since 1999, and the same year the Boulder City church was established.
She felt "there was a connection even back then."
After serving as Boulder City pastor for one year, Johnson said, "Being able to serve God and get paid for it has been amazing. It's the hardest job I've ever done, but it is more rewarding than anything I've ever done. I feel like I'm floating above the ground most of the time, even when crappy things happen."
During the years it took Johnson to complete her journey to the ministry, she reunited with her husband. The couple has three children: Calvin, 23, who works in Las Vegas; Claire, 21, who attends Pfeiffer University in North Carolina studying psychology; and Cameron, 9, who will be in fourth grade this fall.