Lori Mooney always cooking up something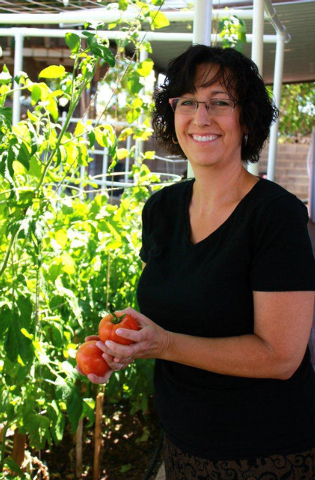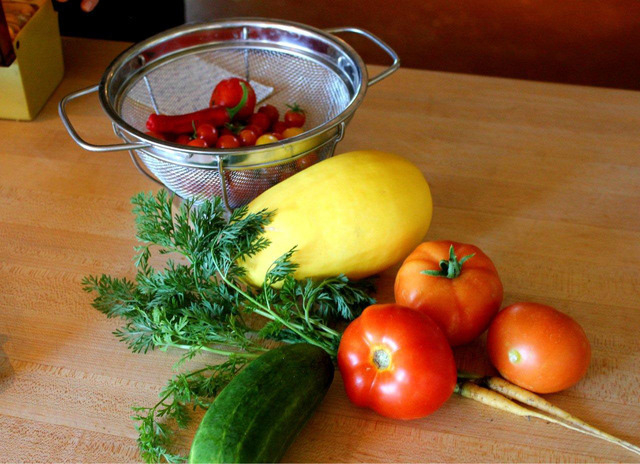 "So where are you in your project now?" It's a question that Lori Mooney hears quite frequently. The answer would be, "Which one?"
Mooney has been a Boulder City resident since 1971. Her dad was a welder working at the Nevada National Security Site. Her husband of 21 years, Denzil, was born here. His family moved here during the building of Hoover Dam.
The Mooneys have two children. Cassie is 19, loves four wheeling, and is working while going to school at College of Southern Nevada. Jared is 16, and enjoys hunting, shooting movies, and welding — as well as rebuilding an old Jeep with his dad.
Building and projects are just part of the family makeup.
"He's (Denzil) into hunting, renovating the house, working on vehicles, and always has a 'project' that he is involved with," Mooney said.
They moved into their current home four years ago. That was when the remodeling started.
"Well, four years later, we have four rooms to go and then the downstairs floors. The kitchen (is) to be the last. … I hope it gets completed before I get tired of cooking!"
She laughs at the thought of it.
Mooney is quite well-known in circles about town. If you don't know her personally, your kids might. She has had quite an array of job experiences during the years: loader operator, photographer, PBX operator, home day care provider and school aide, where she was the cafeteria monitor.
She sees her current job as the "domestic assistant." If you talk with her friends, they will scoff at the assistant part and label her more accordingly.
"She could run a business with people under her! Try domestic organizer, domestic management, organization expert or devoted domestic director," longtime friend Becky Gros said.
Whatever the title, Mooney gets things done.
A few years back, she and her dad, Bernie Schwab, drew up a plan for a rolling island. This was the repurposed butcher block tabletop from the existing kitchen.
Since she knew her kitchen plans would be altered during the remodel, her ideas poured out and stacked up. Bar seating, shelving, drawers, electrical outlets, plumbing.
"It had to be versatile. I like practical things with many uses," she said.
Although she ended up waiting three years to get it, the rolling island ended up being a gift of love. Mooney's dad scaled back the plans, with no electric or water, but it has four wheels, two shelves and more love and memories in it than can be measured.
"It was a post-Christmas gift because he (Dad) had to give Jared the welding machine for Christmas that he had acquired at a yard sale for $50, which he intended on teaching Jared to weld with it, while getting some free labor out of him."
Lori laughed and attributed her son's "Tom Sawyer skills" to her dad. When you look at her flourishing backyard garden, it is apparent that Schwab also shared some skills with her.
They set up a garden together, and she attributes its success to her father's "gold" in the soil.
She proudly explains that he makes this volcanic garden soil activator.
"Beneficial nitrogen fixing bacteria and fungal mycorizae: These critters feed soil nutrients to the plants roots. He makes compost at (Las Vegas) Springs Preserve. If you check out Gardening with Itll Gro on Facebook, you will see he's starting to sell his gold."
The way she displays her vibrant tomatoes, squash, cucumbers, peppers and more presents evidence that her family projects will go on for many years to come.
When asked about cooking, she referred to her mom's Betty Crocker covered-in-duct-tape cookbook: the version that refers to lard, butter, oleo, bacon drippings, etc. "Also gives very helpful 'June Cleaver' types of advice with sketches of ladies with aprons and high heels," she said.
"I do enjoy cooking, whether it is from a recipe, TV cooking show or something just thrown together. Cooking for other people is a pleasure, especially for someone that has been going through a crazy time."
Having homegrown vegetables is to use in her recipes, is a double bonus.
ROASTED TOMATO SOUP
"Cassie and I love it, especially when I make it with my homegrown tomatoes."
2½ pounds fresh tomatoes (mix of heirlooms, cherry, vine and plum tomatoes)
6 cloves of garlic, peeled
2 small yellow onions, sliced
½ cup extra-virgin olive oil
Salt and freshly ground black pepper
1 quart chicken stock
2 bay leaves
4 tablespoons butter
½ cup chopped fresh basil leaves, optional
¾ cup heavy cream, optional
Preheat oven to 450 F. Wash, core and cut the tomatoes into halves. Spread the tomatoes, garlic cloves and onions onto a baking tray.
Drizzle with ½ cup olive oil and season with salt and pepper. Roast for 20-30 minutes, or until caramelized.
Remove roasted tomatoes, garlic and onion from the oven and transfer to a large stock pot. Add ¾ of the chicken stock, bay leaves and butter. Bring to a boil, reduce heat and simmer for 15-20 minutes or until liquid has reduced by a third.
Wash and dry basil leaves, if using, and add to the pot. Use an immersion blender to puree the soup until smooth. Return soup to low heat, add cream and adjust consistency with remaining chicken stock if necessary. Season to taste with salt and pepper.
CRANBERRY-ORANGE OATMEAL SCOTCHIES
"These are special because the husband, Dad and kids love them … because they're good."
1¼ cups all-purpose flour
1 teaspoon baking soda
1 teaspoon Trader Joe's pumpkin pie spice or cinnamon
½ teaspoon salt
1 cup real butter
¾ cup granulated sugar
¾ cup packed brown sugar
2 large eggs
1 teaspoon vanilla
Zest of one orange
3 cups of old fashioned oats
1 package Nestle butterscotch morsels
1 cup Trader Joe's orange-flavored cranberries
Preheat oven to 375 F.
Combine flour, baking soda, pumpkin pie spice (or cinnamon) and salt in small bowl. Beat butter, sugars, eggs and vanilla in large mixer bowl. Gradually beat in flour mixture. Stir in oats, morsels, orange zest and cranberries. Drop by rounded teaspoons onto ungreased baking sheets.
Bake for 7-8 minutes for chewy, or 9-10 for crisp cookies.
SAUTÉED CHICKEN AND SPAGHETTI SQUASH
1 spaghetti squash, 2-3 pounds
8 ounces sliced mushrooms, cremini preferred
4 boneless skinless breasts, cut into bite size chunks
4 tablespoons olive oil
4 garlic cloves, chopped
8 ounces or more dry white wine or chicken broth
4 tablespoons butter
6-8 ounces or more cream
1 cup chopped basil
½ to 1 cup shredded Parmesan cheese
Salt and pepper to taste
Cut spaghetti squash in half, remove seeds, bake in shallow pan with water at 400 F for 30-40 minutes until fork tender. Let cool slightly; scrape out with large spoon and set aside.
On medium high heat, sauté mushrooms with olive oil in a 10-inch pan until slightly browned and crusty. Remove from heat and set aside.
Add a little more olive oil to the pan and add chicken. Sauté until browned; add garlic. Cook for 15-30 seconds, being careful not to overcook.
Deglaze the pan by adding wine or broth and scraping the bottom of the pan to remove all the flavoring layers. Simmer for 5-7 minutes until chicken is done. Reduce heat to low, add butter and stir until melted. Stir in cream, add Parmesan cheese, basil and spaghetti squash; roughly stir in. Salt and pepper to taste.