Lori Giunta finds right mix of family, work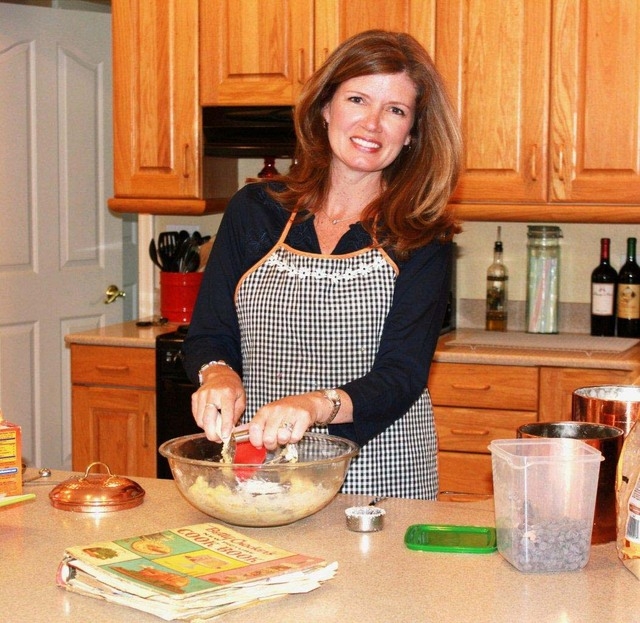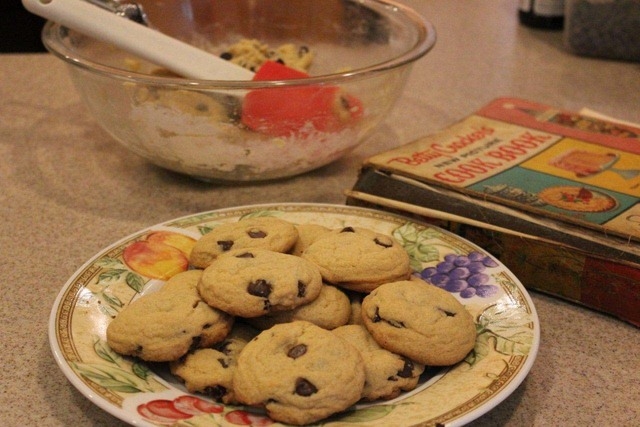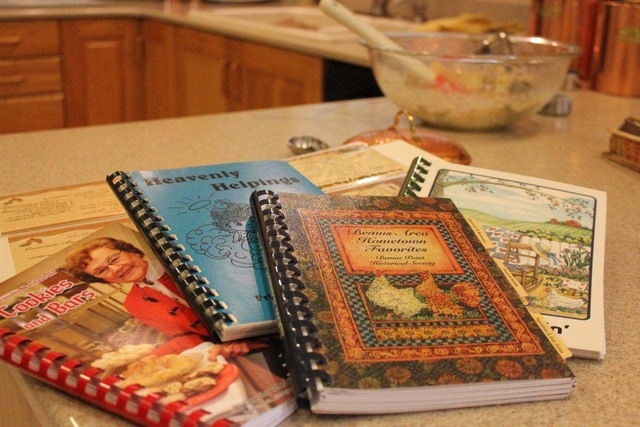 With charm in her voice and a sparkle in her smile, Lori Giunta gleamed as she rifled through recipes handed down from her mother and grandmother.
With memories of Mother's Day fresh in her mind, her stories were all the more dear to her.
"I was raised with traditional American cooking … meat, potatoes and veggies. We had a large garden so we canned a lot," she said.
"Mom didn't use cookbooks very often. She had this Betty Crocker cookbook from the '60s for her pies and cookies. I started baking with her at a young age, and I loved baking. I liked the preciseness of baking, the exact measurements. I can remember once making chocolate chip cookie bars and the recipe called for ¼ teaspoon of salt. Well, I measured ¼ a cup of salt. My brother and sisters still ate them!" she giggled.
Giunta's mom, Georgieann Welsh, was a dump-and-pour kind of cook, which was different than baking. She said that everything turned out amazing, as her mom put her special twist on things.
"She told me not to worry about overcooking meat; as long as the gravy was good, it would be a success."
It was her grandma Eleanor Swan who gave her the lifelong tip about using a pastry cutter with her pie dough and cookies, teaching her to never overmix.
Lori grew up in Michigan. Her husband, Bob, came from just outside Buffalo. They moved to Boulder City from Las Vegas in 1995, thanks to a friendly dinner invitation from over the hill.
"We loved the small town feel and wanted to start a family in a community that reminded us of our childhood," Giunta said. "Boulder City just felt right."
A legal assistant for more than 13 years, Giunta was grateful for the opportunity to stay at home with her children once they started their family. She taught Jazzercise for years, which provided some very necessary adult interaction, while still being a stay-at-home mom.
The Giuntas have three children. Nick is 17, plays baseball for Boulder City High School and is a junior volunteer at the long-term care unit at Boulder City Hospital. Abby is 12, plays softball for the Boulder City Girls 14 and younger Diamondbacks and Garrett Junior High's basketball team. Joey is 10, plays on a club baseball team and is in the Majors for Boulder City Little League.
"Needless to say, if you walk into our house at any given time, MLB Network is usually on," she said with a laugh.
Giunta has been on the Boulder City Little League board of directors for several years and has been volunteering in local schools for more than 12 years.
"We believe it is important to expose our kids to volunteering at a young age," she said.
The whole family volunteers together each year at Art in the Park.
And while being a mother is by far her favorite job, recently, she turned her passion of touring model homes and stopping at open houses into a dream come true.
"I have always had a love for real estate, so I got my license a few years ago. I am a Realtor with the Heritage Group here in Boulder City. I was so lucky to find a great firm so close to home.
"I never know when my phone is going to ring with one of my kids asking, 'Mom… are you busy?' To which I always respond, 'What did you forget?'"
For Giunta, that's what makes a good gravy: having a job she loves, close to home and the ability to be there when her kids need her.
RHUBARB CAKE
"Growing up in Michigan, we always had a garden. Every summer my mom's rhubarb plant would produce huge stalks of rhubarb and Mom would can it or freeze it so we would have rhubarb throughout the winter. This was one of my mom's favorite desserts. Having lost her to lung cancer last summer, I cherish this recipe."
1½ cup brown sugar
½ cup butter
1 beaten egg
1 cup buttermilk
1 teaspoon vanilla
1 teaspoon baking soda
½ teaspoon salt
Mix above ingredients together in large bowl.
Add:
2 cups chopped rhubarb (dust with flour)
2½ cups flour
Pour into greased/floured 9-by-13-inch baking dish.
Add topping:
1½ cups sugar
1 teaspoon cinnamon
½ cup chopped walnuts (optional)
Sprinkle topping over cake batter and bake at 350 degrees for 35 minutes.
CHOCOLATE CHIP COOKIES
"I'm a member of this crazy group of ladies that get together once a month to catch up and play bunco. If I don't show up with chocolate chip cookies, I have to go home."
1 cup butter
¾ cup brown sugar
¼ cup white sugar
1 small package instant vanilla pudding
2 eggs
1 teaspoon vanilla
Mix above in large bowl using manual pastry blender. (Electric mixers overmix the dough.)
Add the dry ingredients, using the pastry blender:
2¼ cups of flour
1 teaspoon baking soda
Then stir in:
2 cups chocolate chips
1 cup nuts (optional)
Bake on an ungreased cookie sheet at 375 degrees for 9 minutes. If you undercook them slightly, they will stay moist longer.
JALAPEÑO POPPER DIP
"I generally do not like spicy food, so I was skeptical when I first made this. Packed full of flavor, but not spicy. And bonus…. my kids love it!"
2 8-ounce packages cream cheese, softened
1 cup mayonnaise
4-6 jalapeños (chopped/seeds removed)
1 cup shredded cheddar cheese
½ cup shredded mozzarella cheese
¼ cup diced green onion
Combine all ingredients in large bowl, transfer to baking dish.
Add topping:
1 cup crushed Ritz crackers
½ cup Parmesan cheese
½ cup melted butter
Bake at 350 degrees uncovered until top is bubbly.
BEEF BRISKET
"Great for a large group. Can make it the night before. Yummo!"
2 briskets (3-4 pounds each)
2 packages dry onion soup mix
2 medium onions sliced
4 stalks celery chopped
2 bottles chili sauce
1 cup water
2 cans beer (nonalcoholic works)
Brown briskets in large skillet; transfer to large baking pan. Sprinkle dry soup mix over briskets, arrange onions and celery on top. Combine water, chili sauce and beer; pour over meat. Bake covered at 350 degrees for 3-4 hours. Separate brisket and sauce and refrigerate over night. Reheat 1½ hours at 350 degrees.
GRILLED HONEY GARLIC CHOPS
"My sister gave me this quick marinade for pork chops. You will never have a dry pork chop again."
¾ cup lemon juice
¾ cup honey
6 tablespoons soy sauce
3 tablespoons dry sherry or white wine
6 cloves garlic, chopped
6-8 pork chops
Combine ingredients in baking dish, add chops, completely coating and cover (I like to use a plastic baggie). Refrigerate overnight, remove chops from marinate and grill about 10 minutes per side until done.