Local woodcut painter launches Las Vegas show
April 18, 2013 - 12:04 pm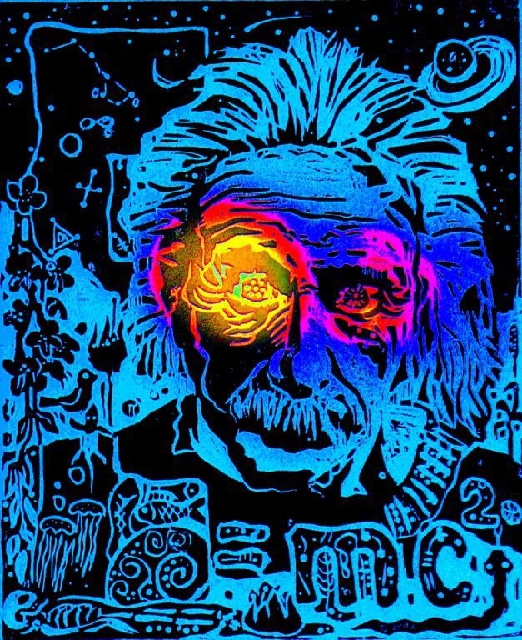 "The opening of an art exhibition is like death. Its inevitability is fixed. We anticipate and prepare meticulously, but we are never really ready when it finally comes."
Those words were used by Rainer "RB" Bertrams, a woodcut block print artist and Boulder City resident, at the March 21 opening of his first solo exhibition at the Charleston Heights Arts Center in Las Vegas.
Bertrams, who was born in 1944 in Duesseldorf, Germany, said he never intended to become an artist, but felt the artist inside him "was always there."
Bertrams said that as a child he wanted to be a professional stone carver, something he picked up from going out into his yard and looking at stones.
He created his first artwork, a watercolor scene depicting boats, at age 10. He used a paint set an aunt gave to him.
When he looks at the piece today, which is kept safely in his garage, he doesn't think much of it, although he believed someone in his family did because it was framed.
Bertrams never studied to be an artist. He studied chemical engineering at the University of Massachusetts at Amherst, but eventually began working in structural engineering, specializing in cranes and "big tonnage type stuff."
At 18, Bertrams moved from Boston to Berkeley, Calif., in search of better weather and a more substantial education.
Long before he thought about Boulder City or moved here, Bertrams worked on revamping cranes used at Hoover Dam a number of years ago. He has spent 30 years "number crunching," calculating how strong a crane needs to be to perform a specific task.
While in Berkeley, Bertrams became "a frustrated musician" from 1965 until 1970, and produced a jazz album called "Glass Flowers."
From 1970 to 2000, Bertrams lived and worked in Houston, where he specialized in the design of steel structures.
During these years, he studied Chinese brush painting and dabbled in making woodcuts for the Houston Art League.
Although Bertrams refers to his artwork during this time as a "hobby," his woodcuts have garnered a number of awards in Texas and Nevada.
He believes his Teutonic heritage led him to become a woodcut artist.
"The art of the woodcut reflects a most violent medium which employs knives, chisels, hammers and gouges. It is a medium that seemingly had been lost with the Huns and Barbarians of the 15th and 16th centuries, my ancestors."
Only in the last decade did Bertrams, who moved to Boulder City in 2000, devote considerable time to woodcuts.
He's now the outside show director for the Boulder City Art Guild and a member of City Lights Art Gallery in Henderson.
He teaches basic block-print techniques and has demonstrated his craft at the Art Center in ABC Park and other venues.
Bertrams' work is on display at Henderson City Hall, Boulder City Hall, Valley of Fire Visitor Center, Nevada State Museum in Las Vegas and the University of Arizona.
His latest accomplishment is his first solo exhibition entitled Spirit Journeys at the Charleston Heights Arts Center, which runs through May 5.